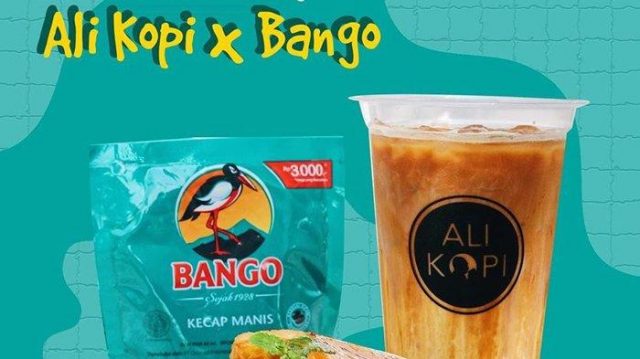 Launched on 21 February 2020, the new iced milk coffee mixed with Kecap Bango soy sauce by Unilever's Kecap Bango and Ali Kopi has instantly became viral in Indonesia. This unusual but unique combination of sweet soy sauce and iced milk coffee drink (es kopi susu) has caught the attention of Indonesians who are not accustomed to seeing sweet soy sauce being used in beverages let alone in milk coffee.
According to news reports, the idea came from Unilever Food Solutions. The taste becomes salted caramel when mixed with iced milk coffee. Unilever said the taste is achievable as Kecap Bango uses only natural ingredients such as black soy bean, coconut sugar, water and salt without preservatives, colourings and flavourings.
The application of soy sauce into dessert and drink is not something that is entirely new. in fact Yan Wal Yun, one of the largest sauce companies in Thailand, has created soy sauce flavoured ice cream with a unique salted caramel taste through the use of black soy sauce.
Companies are constantly looking at ways to create buzz and new usage for their product. The example of Kecap Bango, which has flavoured many dishes in Indonesia, shows even soy sauce can become viral when paired with the right product.