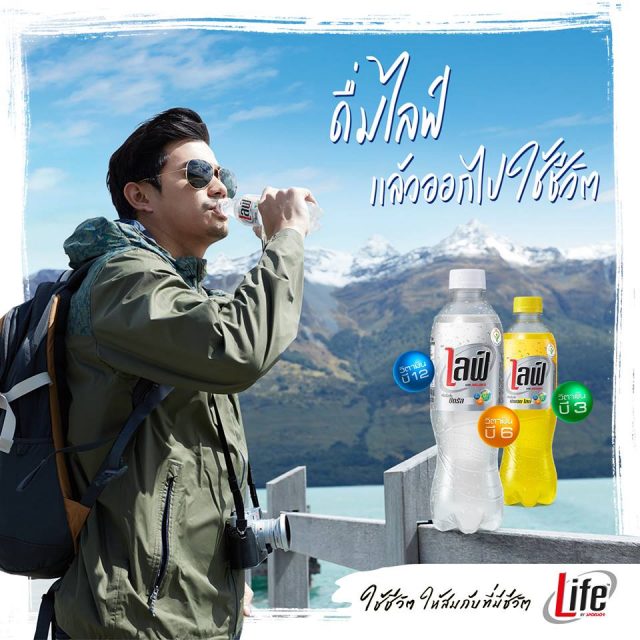 TCP Group, the Thai owner, manufacturer, and distributor of Red Bull, Ready, Sponsor and Som Plus, has officially unveiled Life by Sponsor, a carbonated version of the nation's most popular sports drink Sponsor in August 2017. The new drink has been in the market since June 2017.
Biggest share in sports drink
Sponsor currently owns around 80% share of the sports drink market in Thailand, said TCP Group marketing director Supachai  Junkeiat citing Nielsen data.
Sports drink a growing category
The market for sports drink is smaller than energy drink but has potential to grow. Kittichet Sathitnoppachai, Tipco marketing director, said the sports drink market in Thailand in 2017 is expected to reach THB 6 billion in 2017, up by an estimated 10-15% over the same period ago. ThaiBev's 100Plus (carbonated) is the market leader in sports drink in PET bottle with a 45% market share, followed by Coca-Cola's Aquarius (carbonated) with 28-29% and Gatorade (still) with 15%. In the glass bottle format, the biggest format, Sponsor has a clear lead with an 85% market share, according to the article in Brand Buffet.
Coca-Cola's Aquarius was launched in October 2015, while ThaiBev's 100Plus debuted in February 2015.
As a contrast, the Thai energy drink market is valued at THB 35 billion in 2016, down 2.6% from 2015. The growth rate of the energy drinks market from 2012 to 2015 was 2.6% CAGR, according to Nielsen.
Lifestyle drink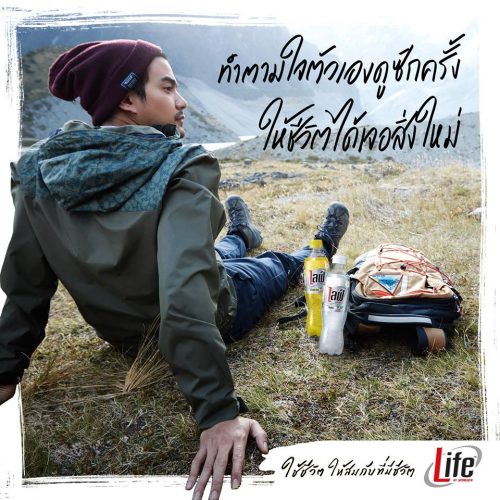 Model and actor Sean Jindachot is the brand spokesman for Life by Sponsor. Image from Life by Sponsor Facebook page
The new Life by Sponsor is targeted as a "drink that can be consumed on any occasion with the added benefits from vitamins," Mr Supachai said reported Bangkok Post.
The new Life by Sponsor also marks the extension of Sponsor into the PET bottle packaging format offering convenience for on-the-go consumption. Previously, Sponsor was only available in can and glass bottle.
Model and actor Sean Jindachot was appointed as the brand spokesman for Life by Sponsor. The TVC features him leaving the rat race and comfort zone to experience life to the fullest.
เราเคยถามตัวเองกันมั้ยว่า ทุกวันนี้.."เราได้ทำสิ่งที่อยากทำ หรือกำลังทำในสิ่งที่ต้องทำ"แล้วคุณล่ะ…เลือกใช้ชีวิตแบบไหน ค้นหาความหมายของการมีชีวิตไปกับเราร่วมแชร์ภาพการใช้ชีวิตให้สมกับที่มีชีวิตและส่งต่อแรงบันดาลใจไปด้วยกันที่ www.lifebysponsor.com#LifebySponsor #ใช้ชีวิตให้สมกับที่มีชีวิต #mylifebrary

Posted by Life by Sponsor on 1hb Julai 2017
TCP Group said it will spend THB 100 million to market Life by Sponsor to maintain its lead in the sports drink market.
Healthier choice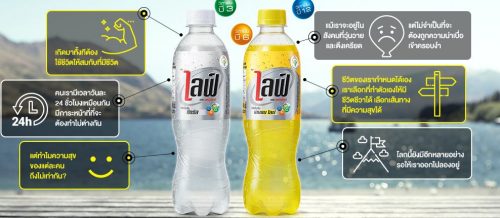 Life by Sponsor, which is low in sugar and calorie, comes with the Healthier Choice Logo issued by the Ministry of Public Health. The drink is also fortified with vitamin B3, B6 and B12.
The drink is available in 2 flavours – Citrus and Lemon Lime with a price of THB 16 each. Each bottle comes with a packaging size of 440ml.
What Mini Me thinks
The new Life by Sponsor is seen as a move by TCP Group to ensure its sports drink Sponsor does not miss out on demand generated from the more convenient PET bottle packaging. This segment is currently heavily contested by the likes of 100Plus and Aquarius, both are carbonated.
Introducing the carbonated Life by Sponsor also ensures Sponsor continues to remain relevant as a hydration drink for the growing outdoor lifestyle.