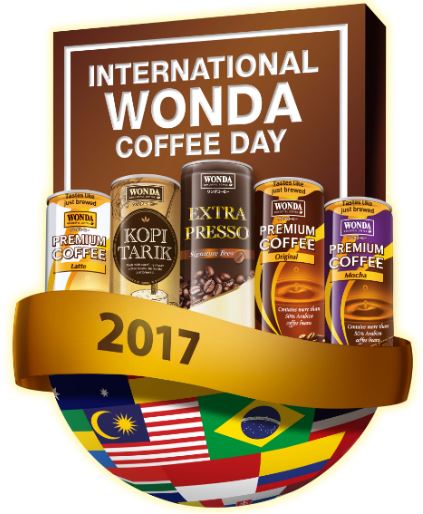 WONDA Coffee is bringing premium coffee beans from the world's renowned coffee regions and locally producing it to gratify the consumers' taste buds with its limited time only offerings
KUALA LUMPUR, 28 August – WONDA Coffee, one of Malaysia's leading ready-to-drink (RTD) coffee brands is back for the fourth year in a row to celebrate International Coffee Day (ICD). Over the years, WONDA Coffee has delighted coffee lovers in the country with exciting and WONDA-ful deals. Last year, WONDA Coffee celebrated it in a bigger way and championed ICD by bringing its first International WONDA Coffee Day (IWCD). The campaign was a phenomenal success and was well-received by Malaysians. This year, WONDA Coffee has even better and more irresistible treats for consumers.
In conjunction with IWCD, WONDA Coffee is bringing coffee enthusiasts International Coffee experience that will take them on an exciting voyage to 'Discover the WONDAs of the World'. Inspired by the special bond that brings coffee lovers together from around the world, the brand aspires to stir up the same positive vibes during IWCD, by introducing three new premium variants from famously-known-for-coffee countries and are available for a limited time only.
These new variants from the WONDA 100% Arabica Brew Range are made in Malaysia with 100% Arabica beans sourced from renowned coffee-rich countries – Brazil, Colombia and Indonesia. These delectable premium variants can be found exclusively at selected outlets. WONDA 100% Arabica, Colombian Coffee is only available at Shell Select with a 'Buy Two Free Two' offer from 28th August to 1st September 2017.
During the same period, coffee lovers can purchase the WONDA 100% Arabica, Brazilian Coffee at 7-Eleven outlets for a special promotion price of RM1.20 per can. Meanwhile, the WONDA 100% Arabica, Indonesian Mandheling Coffee sold exclusively at Kedai Mesra PETRONAS comes with a fantastic promotion that 3 winners get the chance to win prizes of RM5,000 worth of free fuel a day from 28th to 31st August 2017. Thus, a total of RM60,000 worth of free fuel will be given away!
All consumers need to do is to purchase two cans of WONDA Coffee in a single receipt at Kedai Mesra PETRONAS, SMS their details to the number provided and retain the original receipt as proof of purchase. Winners will be announced on the WONDA Coffee Malaysia Facebook page. To add more excitement to the festival, these three offers at Shell Select, 7-Eleven and Kedai Mesra PETRONAS, also extend to the other WONDA Coffee variants.
WONDA Coffee is also going the extra mile for coffee lovers with free coffee refills from the Limited Edition WONDA 100% Arabica Brew Range at WONDA Coffee's Dispensing Billboard at Ampang Park LRT station.
To celebrate this on an even bigger scale, WONDA Coffee is also collaborating with other partners to offer irresistible deals such as a 4-can multipack promotion for RM4 at hypermarkets and supermarkets as well as a special two-day IWCD promotion of RM1 per can at 99 Speedmart from 28th to 29th August 2017. Another fantastic deal that WONDA Coffee lovers can anticipate is a 'Buy Two Free One' offer at KK Mart from 28th August to 1st September 2017.
Furthermore, consumers can enjoy two cans of WONDA Extra Presso for free with every purchase of any 'Domino's 2 Pizza Deals with Extra Cheese' from RM33 at Domino's Pizza from 28th August to 10th September 2017. To reach out to hardcore cinema buffs, there will be a free movie ticket for each person who presents their TGV Cinemas MovieClub card or signs up for one upon purchasing a can of WONDA Extra Presso at TGV cinema outlets nationwide, from 28th to 31st August 2017. The free movie ticket will then be credited into the individual's TGV Cinemas MovieClub card.  Consumers who make their order via the Grab app from 28th August to 1st September 2017 will be in for a treat as Grab will deliver the "Limited Edition WONDA 100% Arabica Brew Range" pack to lucky ones at their doorstep.
"We want to offer Malaysians an unparalleled international coffee experience and expose them to the different premium coffee variants available. Hence, coinciding with this year's IWCD celebration, we are introducing the 'WONDAs of the World' where we have these three limited edition premium variants for coffee enthusiasts to discover and indulge in. What they all have in common is that they come from some of the world's best coffee regions and carry WONDA Coffee's 'tastes like just brewed' signature," said Santharuban T. Sundaram, Vice President of Marketing at Etika Sdn Bhd.
Santharuban added, "It is great to see how coffee can bring people together from around the world. This is why we celebrate IWCD and want to bring joy as well as treat our loyal consumers with fantastic deals and promotions throughout this period".
Consumers are encouraged to discover the 'WONDAs of the World' with an array of tasty premium variants to choose from. Currently WONDA Coffee is also available in Original, Mocha, Latte, Kopi Tarik and Extra Presso. As the host of the annual IWCD celebration, WONDA Coffee hopes to provide excitement, variety and the international coffee experience for coffee enthusiasts in Malaysia. It is an opportunity for coffee lovers to discover different premium ready-to-drink coffee variants.
For more information on WONDA Coffee's future activities, please visit https://www.facebook.com/WondaCoffeeMalaysia.

Made with premium quality Arabica coffee beans that serve up a 'just brewed' taste, WONDA Premium Coffee delivers the perfect touch of delicious freshness that will awaken your senses. Introduced in Malaysia for the first time out of Japan by Etika Sdn Bhd, a wholly owned subsidiary of Asahi Group Holdings Pte Ltd., Japan, WONDA Coffee is a leading brand in the Land of the Rising Sun. The premium ready-to-drink (RTD) coffee offers the smooth taste of freshly brewed coffee in five unique flavours: Original and Mocha, which contain more than 50% premium Arabica coffee beans; Latte, which is made from a French vanilla flavoured creamy concoction; Kopi Tarik, which offers a truly creamy local taste and Extra Presso, which delivers a stronger coffee taste.

One of Malaysia's leading drink distributors, Etika Sdn Bhd is a wholly owned subsidiary of Asahi Group Holdings Ltd., Japan and the official bottler for PepsiCo in Malaysia. Etika Sdn Bhd markets and distributes some of PepsiCo's global brands such as Pepsi, Sting, Evervess, Revive Isotonic, 7UP, Tropicana, Mirinda, Lipton Ice Tea, Mountain Dew, Gatorade and MUG, as well as its own range of products which include Chill, Kickapoo, WONDA Coffee, Goodday Milk, Calpis, Dairy Champ and Bleu.