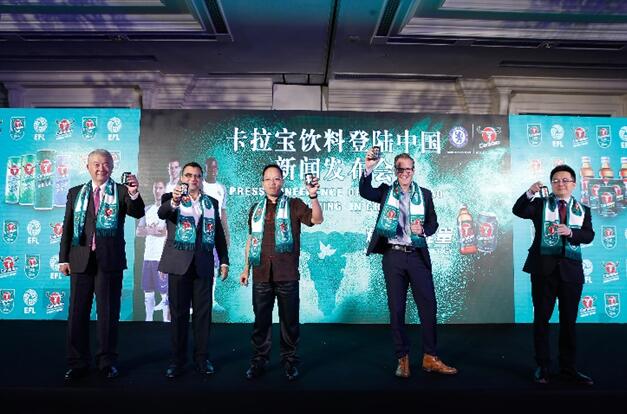 Carabao (卡拉宝) energy drink has been officially launched in China in an event in Beijing on 24 August 2017. The Carabao Cup (EFL) third-round draw was also scheduled in Beijing on the same day, sparking criticism from fans in the UK, reported the Guardian. An EPL spokesman said "We understand not everyone will agree on the timing of this week's round‑three draw, but in staging in this way it will give the competition both the maximum exposure in the UK, Chinese and south-east Asian markets."
Carabao is focusing on development the China market. Since available in China in March 2017, it has sponsored numerous non-mainstream sporting events in China but popular with young consumers. They include longboarding, freestyle football, parkour and boxing. Carabao is already in major retail chains including petrol marts, internet cafes, supermarkets, hypermarkets and convenience stores.
Sales in China in the first half of 2017 stood at THB 612 million (USD 17.2 million) or 9.9% of the company's total first half revenue, which reached THB 6.2 billion. Sales in China could potentially increase further in the remaining six months of 2017 with expansion of product availability.
What Mini Me thinks
The entry of Carabao in China comes at an opportune time. This comes as the current Red Bull trademark legal tussle in China between its Thai owner (T.C. Pharmaceutical Industries) and Chinese partner (Reignwood Group) is far from settle. Red Bull is the market leader in China's energy drink market, which has been growing at a double-digit rate in the past. To improve publicity, Carabao is expected to spend a lot on marketing in China before it can turn the China business into a profit.