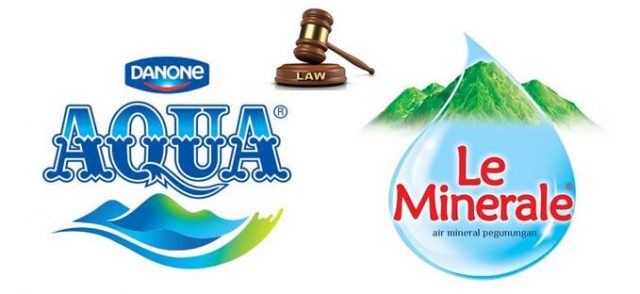 The ongoing antitrust agency's probe against PT Tirta Investama (Aqua) and its distributor PT Balina Agung Perkasa has made public the extend of the popularity of Le Minerale, a bottled water made by PT Tirta Fresindo Jaya, a unit of Mayora Group. The legal case has also revealed how the same set of data can be manipulated to serve different purposes.
The Business Competition Supervisory Commission (KPPU) is currently investigating claims by Le Minerale vendors that they were threatened by Aqua distributor Balina Agung Perkasa with a downgrade if they continue to sell Le Minerale bottled water alongside Aqua. The alleged unfair business practice occurred in the Greater Jakarta (Jabodetabek) area during the second half of 2016. Le Minerale made its debut in 2015.
Both companies made their claims using Nielsen data
PT Inbisco Niagatama Semesta, an affiliate of Mayora Group and the nationwide distributor of Mayora's products, claimed the market share of Aqua saw an increase from July 2015 to November 2016 citing Nielsen data. This was disclosed by Inbisco Niagatama Semesta National Sales Manager – Beverage Division, Carol Mario Sampouw, in a session with the watchdog as reported by the business daily Kontan on 10 July 2017.
According to Carol, the market share of Aqua reached 55%-60%, while Le Minerale stood at 18%, Ades at 10%, Prima at 3% and VIT with over 10%. Carol also mentioned without giving a specific figure claiming there was a decline in the share of Le Minerale during the same period.
The legal representative of PT Tirta Investasma, Rikrik Rizkiyana, asserted that the market share of Le Minerale in the Jabodetabek area, not nationwide, showed an increase. Based on Nielsen data for the Jabodetabek region, the market share of Le Mineral in June 2016 stood at 3.5%. This figure was 3.1% in July 2016, rising to 4.1% in August 2016 and subsequently growing to 4.3% in September 2016, reported Kontan on 10 July 2017.

What Mini Me thinks
Both Le Minerale and Aqua used the figures provided by the same retail audit company Nielsen and both have merits in their argument. Aqua's data referred to the Greater Jakarta area, while Le Minerale's painted a nationwide picture.
Interestingly, we now know Le Minerale did show an extremely strong growth since it was first launch in the market in 2015. By the end of 2016, Le Minerale already had an 18% share, which is a stellar achievement in a market dominated by Aqua, a name already synonymous with bottled water in Indonesia.