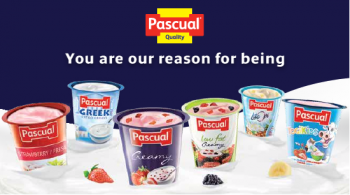 The Spanish dairy company Calidad Pascual (formerly known as Grupo Leche Pascual) has introduced its ambient Pascual yoghurt in Malaysia in the second half of 2017. The long-shelf life spoonable yogurt does not need to be refrigerated, making it the first of its kind in the Malaysian market.
Sri Manisan Sdn Bhd is the local importer and distributor of Pascual yoghurt.
Long-life yoghurt contributes 4% towards Calidad Pascual revenue
Calidad Pascual derives 4% of its total revenue from the sale of pasteurised yoghurt amounting to 25.8 million Euros, according to the company's 2016 report.  Among the key markets for long-life Pascual yoghurts are the Philippines, Angola and Guinea Ecuatorial. The company exports to around 68 countries worldwide.
Home in the chilled section
At the point of sale in grocery stores in Malaysia, Pascual ambient spoonable yoghurt is displayed in the chilled section to make it easy for consumers to make their selection. At the moment, all spoonable yoghurt products that are selling in Malaysia are displayed in the chilled section.
The image below was photographed by the author at Jaya Grocer premium supermarket.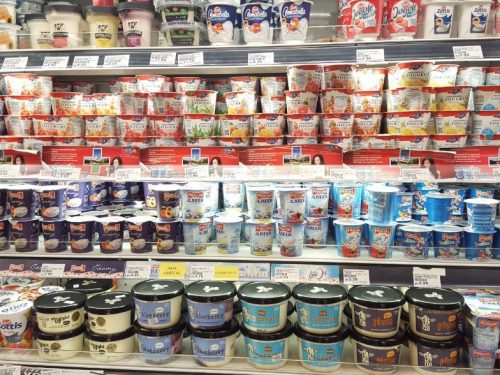 Among the Pascual products in Malaysia are:
Pascual Greek Vanilla – targeting everybody. Pleasure and Indulgence. It has extra creamy texture and 5.6% fat content.
Pascual Creamy – For everybody. Focus on men. Comes with fruit pieces, 5.6% fat content and a creamy texture.
Pascual Lite 0% – For women from 25-45 years old who are worried about good health and fitness. It contains fruit pieces, 0% fat content, calcium fortified (15% recommended daily allowance) and is sweetened with Splenda.
Pascual YogiKids – It is for kids from 1 to 11 years old. The yoghut contains fruit puree and is fortified with vitamin E, A, B9 and D.
All the yoghurts are gluten free and certified halal.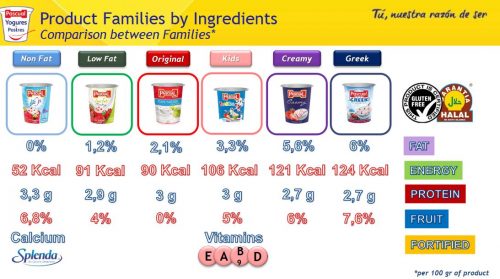 Pascual is positioned in Malaysia as a yogurt for "Pleasure and health for the whole family."