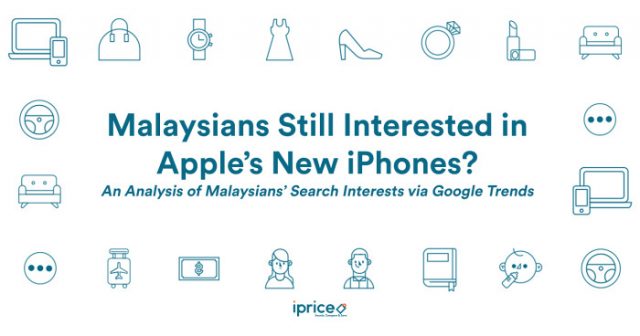 An Analysis of Malaysians' Search Interests via Google Trends
In 2016, it was estimated that Malaysian consumers spent more than RM6.8 billion (US$1.27 billion) to purchase smartphones. Mobile phones has played a huge role in most Malaysians' daily lifestyle to an extent that three out of five consumers say they cannot imagine life without it. As such, it is conventional that Malaysians are always on the look-out for the newest technologies that would further enhance their quality of life.
This was evident as there was a big surge of search interest on Google as Apple launched the new iPhones. Though Apple received somewhat a mediocre response as it was released in Australia and Canada, Malaysians have constantly searched for the latest news, reviews and prices of the new iPhone. To analyse Malaysians' interest on Apple's smartphones, iPrice Group conducted a study through Google Trends to find out if Malaysians are still interested in the new iPhones.
Malaysians Were More Interested in the New iPhones Than Indonesians, Thais and Vietnamese
Analysing search interest between 12th and 18th September, peak interest with the keywords "iPhone X" and "iPhone 8" appeared as early as 3:00am on 13th September when the announcement of the new smartphones was live-streamed from California, in the United States. The second surge of search interest appeared at dawn around 7:00am when most Malaysians awake for work. But when compared, search interest at 3:00am was much higher than 7:00am suggesting that many Malaysians stayed up late through the night to witness the live announcement of the new iPhones.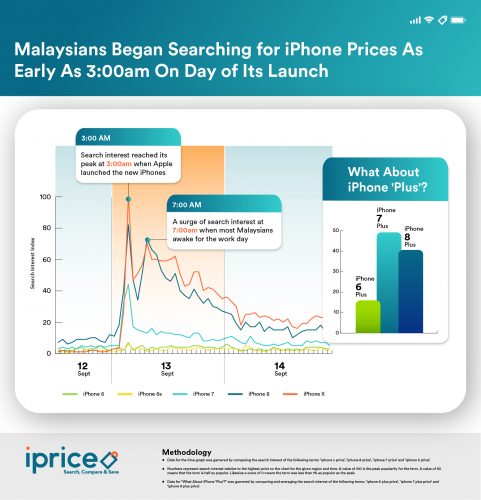 We conducted a similar study in Malaysia's neighbouring countries and found that search interest differed when compared to Indonesia, Vietnam and Thailand. While search interest on the prices of iPhone X and iPhone 8 was most popular in Malaysia, consumers in the neighbouring countries had higher interest in prices of Apple's previous smartphone models such as the iPhone 6 and iPhone 7. This is reflective of Malaysia's economy as it currently ranks 3rd place (in GDP per capita) in Southeast Asia, suggesting that Malaysians were more interested in the new smartphones because they were more likely able to afford the new smartphones when compared to consumers in Indonesia, Vietnam and Thailand.
When comparing search interest between iPhone's 'plus' models, Malaysians were more interested in the prices the iPhone 7 Plus than the iPhone 8 Plus. Though Apple has yet to announce the price of the iPhone 8 Plus prior to its 20th October launch, it was recently revealed that the pre-order price of the 64GB variant would be RM4,149. Not to mention that Apple lowered the prices of their previous models the same day the new iPhones were launched. The iPhone 7 Plus (128GB) now priced at RM3,849, is cheaper than the iPhone 8 Plus by RM300 and it remains a technologically advanced smartphone in the market.
Our findings in Google Trends suggests that Malaysian consumers were less interested in the iPhone 8 Plus and would prefer the iPhone 7 Plus as it would come at a cheaper price and with larger storage space. In addition to this, consumers who are able to afford the iPhone 8 Plus might opt to wait for the launch of the more advanced iPhone X in Malaysia as it is estimated to cost RM4,999 based on Apple's launch in Singapore recently.
 Malaysians Were Uninterested with FaceID and Animoji
Apple's iPhone X bezel-less screen gave the biggest visual change from their standard smartphone look and this resonated well with Malaysians as well. Along with the keyword 'iPhone', keywords such as 'screen' and 'camera' were the two most popular terms in Malaysia between 12th and 18th September. With leaks from various sources, news of Apple's bezel-less smartphone has been making waves in Malaysia and momentum of this interest continued days after its launch.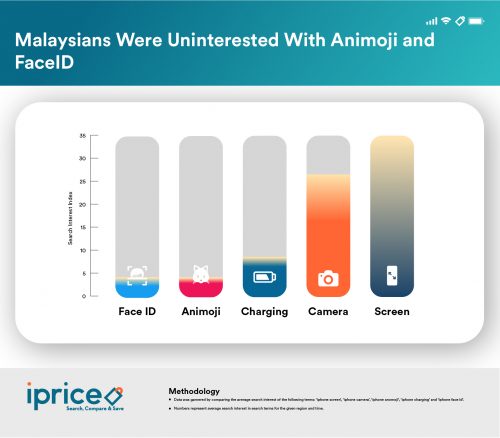 In 2014, Time Magazine released a finding revealing George Town (Penang) and Petaling Jaya (Selangor) as among the top five 'Selfiest City in The World'. The study was based on a database of more than 400,000 Instagram images tagged as 'selfie' that included geographical coordinates. The two Malaysian cities were ranked alongside highly photogenic locations such as Manhattan (NY), Manchester (England) and Milan (Italy). While many were surprised that the two cities were listed in Time Magazine, it is conventional that Malaysians would find the camera as a vital feature in a smartphone. This was evident in the recent iPhone launch, as the term 'camera' was the second highest right after 'screen'.
On the other end of the spectrum, Malaysians were less interested with the new iPhone's charging, Animoji and FaceID. Features such as FaceID and wireless charging was previously made available to Malaysians through more affordable Android smartphones such as Samsung's Galaxy S7 Edge or the OnePlus 5.
Methodology
Utilising Google Trends, the findings were garnered by analysing search interest of Malaysians between 12th and 18th September 2017. The time graph in the first finding (Which iPhone Sparked the Most Interest?) was garnered by comparing the search interest of the following terms: 'iphone x price', 'iphone 8 price', 'iphone 7 price' and 'iphone 6 price'. Data for "What About iPhone 'Plus'?" was garnered by comparing the search interest of the following terms: 'iphone 6 plus price', 'iphone 7 plus price' and 'iphone 8 plus price'. Data for the second finding (Malaysians Were Most Excited with Which New iPhone Feature?) was garnered by comparing the search interest of the following terms: 'iphone screen', iphone camera', 'iphone anomoji', 'iphone charging' and 'iphone face id'.
About iPrice Group
iPrice Group is a meta-search website where Malaysian consumers can easily compare prices, specs and discover products with hundreds of local and regional merchants. iPrice's meta-search platform is also available in six other countries across Southeast Asia namely in; Singapore, Indonesia, Thailand, The Philippines, Vietnam and Hong Kong. Currently, iPrice compares and catalogues more than 100 million products and receives more than five million monthly visits across the region.
iPrice currently operates three business lines: price comparison for electronics and health & beauty; product discovery for fashion and home & living; and coupons across all verticals.