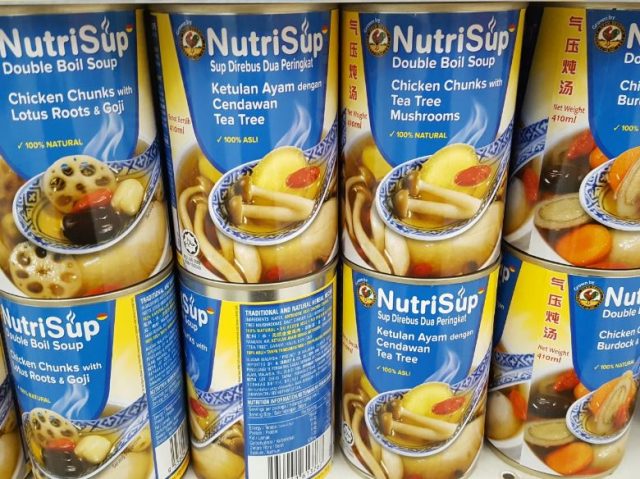 Ayam Brand has launched an interesting canned soup in Malaysia that appeals to the Chinese palate. The NutriSup range comprises three products – Chicken Chunks with Tea Tree Mushrooms, Chicken Chunks with Lotus Roots & Goji and Chicken Chunks with Burdock & Goji. Lotus root soup (莲藕汤) and burdock soup (牛蒡汤) are well known in Chinese cooking. The soup is certified halal by JAKIM.
For quick and easy preparation, Ayam Brand NutriSup is double boiled and cooked in a pressure cooker (汽压炖汤) instead of using the slow cooker.
Antibiotic free chicken chunks
For example, the NutriSup Chicken Chunks with Burdock & Goji uses only antibiotic free chicken chunks, water, carrot, burdock, red dates, salt and goji berries. There is no added MSG and preservatives.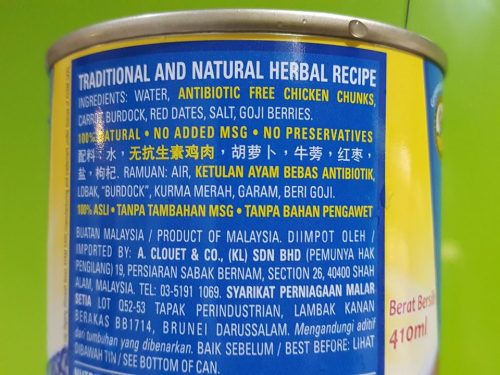 Minimal fat
Most consumers nowadays are worried about the high fat content in processed food. The NutriSup Chicken Chunks with Burdock & Goji is a clear soup with minimal fat or 0.3g of fat per 100g of serving.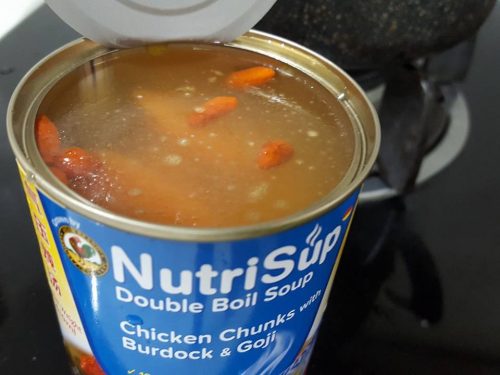 The carrots are in big slices, while the meats are in big chunks. There are few slices of burdock and goji berries.
The only thing that is missing from the packaging is the cooking instruction. For me, I just reheat the soup in the pot and the soup is ready to serve.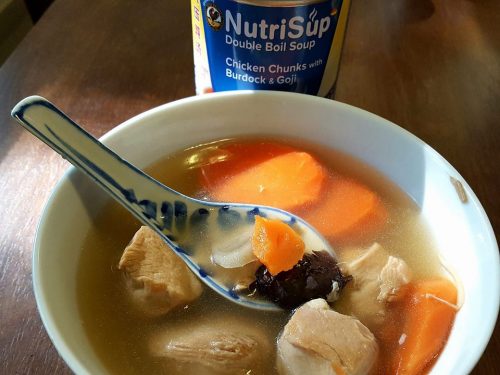 The soup does taste like burdock soup but it can be slightly salty. The canned soup has 252mg of sodium per 100g. The net weight of the NutriSup range is 410ml and the serving size is 205ml.
NutriSup at point of sale
At RedTick Supermarket in Puchong in September 2017. Image below.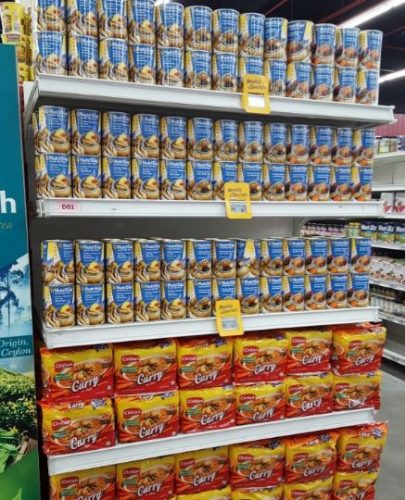 NutriSup is located on the bottom right corner in blue. The rest are mainly Campbell's soup – wet and instant. On the bottom rack are Heinz imported soup and Kimball's tomato soup. The image below was photographed by the author at Giant in September 2017.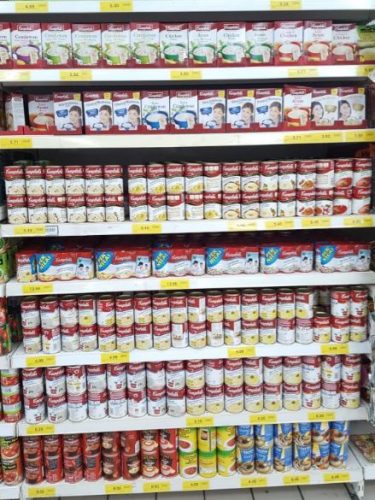 The NutriSup range (410g) is retailed at RM 8.99 (promotion price of RM 8.49) at Giant. As a comparison, the Campbell's Premium Selection Mushroom Seafood (300g) is priced at RM 5.45 and the Campbell's Mushroom Potage (305g) is selling at RM 4.99.
Mini Me takeaway
Ayam Brand NutriSup range focuses on the niche market and taps into Chinese consumer's deep appetite for boiled soup whether dining outside or at home. The high prices reflect the quality ingredients that go into each NutriSup canned soup.