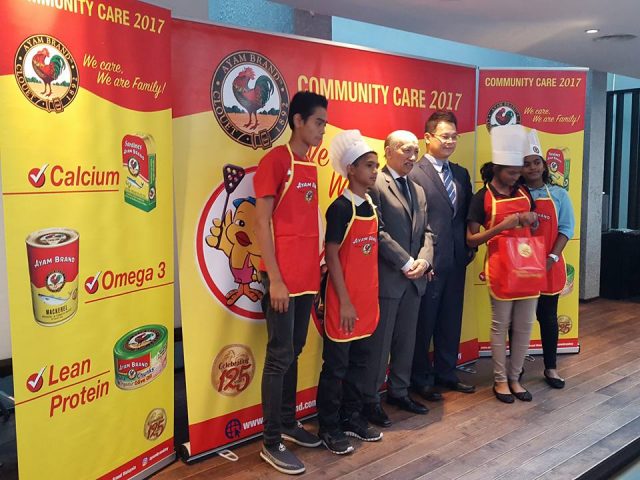 We caught up with A. Clouet & Co (KL) Sdn Bhd Group Chief Executive Officer CEO Ting Seng Hee on the sideline of the launch of Ayam Brand's 10-Year Community Care Campaign. We asked him about sustainability and the company's future plans.
Sustainability
Sustainability is part of Ayam Brand's mission and vision. A long-term partner of WWF, Ayam Brand is a founding member of SASPO, an organisation that promotes sustainable palm oil in order to fight haze, deforestation and to protect wildlife habitat. The brand switched to sustainable palm oil in 2010 and became one of the few local companies to make this commitment. Ting said the company aims to have all factories and buildings green mark certified before 2030.
We Care, We Are Family
Ayam Brand first coined the "We Care, We are Family" tagline in 2016. According to Ting, "We Care" means caring for the society and people's health. The products made by Ayam Brand are a natural source of nutrient, convenient, value for money and safe.
"The whole wide world is like our family" are the words described by Ting to explain the "We are Family" concept. He elaborated more by saying "we are family is not only to each other but to the entire environment and the entire society." This concept is part of Ayam Brand's move towards societal marketing.
Healthier choice logo
Ayam Brand is working closely with the Malaysian authority on the Healthier Choice Logo (HCL) as providing healthy, nutritious, delicious, convenient and safe products has always been the core of the company's corporate mission.
In Singapore, Ting said most of Ayam Brand's products have been awarded the Healthier Choice Symbol (HCS).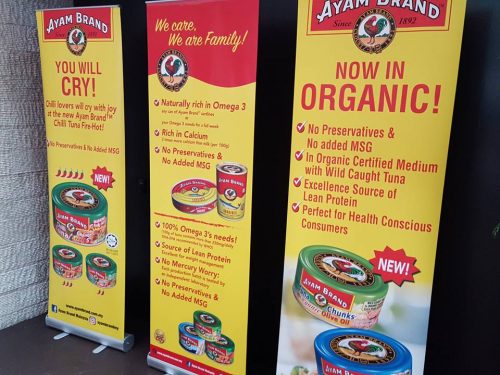 Ayam Brand's products are moving towards the direction of less fat, less sugar and less salt. Ting said Ayam Brand was the pioneer in coming out with the light version for baked beans over 10 years ago. In 2017, Ayam Brand introduced tuna chunks in organic olive oil and tuna flakes in organic broth as well as Nutrisup double boil soup where the chicken chunks are free from antibiotics and growth hormones.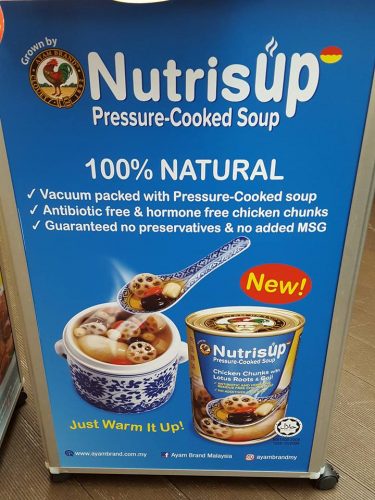 Changing seafood market in Malaysia
Ting sees a change in the seafood market in Malaysia where it is now moving towards the frozen and fresh direction. Ting said "canned food is one of the safest and most convenient product but with the changes in today's lifestyle, people like to cook at home and experience it so they are looking at fresh or frozen seafood products."
Ting said Ayam Brand plans to go into the frozen seafood segment. Nutrisup will be one of the subbrands. The correct way of saying the brand name is NutrisUP to bring up the nutrients in your body, explained Ting. More nutritious products will come under the NutrisUP label including clean label and organic, said Ting.
There is limited choice in the frozen seafood market and Ayam Brand aims to introduce more choices to the market.
Driving innovation in the market
As the number one player in canned seafood, "Ayam Brand has more responsibility to drive the category and bring more innovation to the people," said Ting.
Ayam Brand's factories are located in Malaysia but canned tuna is made in Thailand because of the economies of scale.
Ayam Brand has physical distribution of its products in more than 30 countries including in Japan, UK, Australia and France, "a milestone the company has been making in the past five to 10 years", added Ting. The company only started to move out of Malaysia/Singapore in the past 10 years but the brand has been around for 125 years.