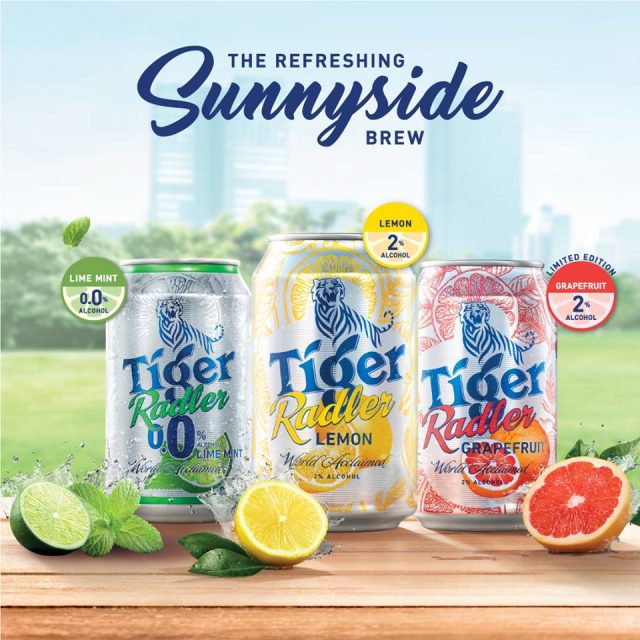 Heineken Malaysia Bhd has launched the all-new 0.0% alcohol Tiger Radler Lime Mint. Described as a sparkling malt drink with natural citrus juice, the alcohol-free drink is now available at selected stores in Malaysia from December 2017 onwards.
Tiger Zero a precursor to Tiger Radler Lime Mint
The new Tiger Radler Lime Mint 0.0% reminds me of Tiger Zero, which was made available on a trial basis at selected food service establishments including at Sanoook in October-November 2016. Obviously, the company decided not to proceed with Tiger Zero and replaced it with a Radler version in the form of the new Tiger Radler Lime Mint 0.0%.
Heineken Malaysia now has two non-alcoholic products under its stable – Tiger Radler Lime Mint 0.0% and the lightly carbonated Malta. The latter does not contribute much to the company's revenue – only a few percentage, according to the company.
Bintang Radler 0.0% in Indonesia since 2016
In Indonesia, PT Multi Bintang Indonesia Tbk was quite early to the game with the launching of the lemon version of Bintang Radler 0.0% in 2016. The zero-alcohol drink was given a packaging makeover in 2017.
Excise tax spurs interest in non-alcoholic segment
As reported by The Edge Markets, Heineken Malaysia Bhd Managing Director Hans Essaadi said in July 2016 that "historically, we stayed away from the non-alcoholic segment, but with the revised excise tax in place and consumer trend that we are seeing, we need to explore."
The Malaysian government revised its beer excise duty structure to RM 175 per 100% volume per litre from previously RM7.40 per litre and 15% ad valorem tax with effect from 1 March 2016. The new tax regime resulted in the elimination of the ad valorem tax and led to a 10-12% increase in the beer's excise duty. The new
He rightly said that any new product from the non-alcoholic segment would be realised only in 2017.
Here are the NPDs by Heineken over the years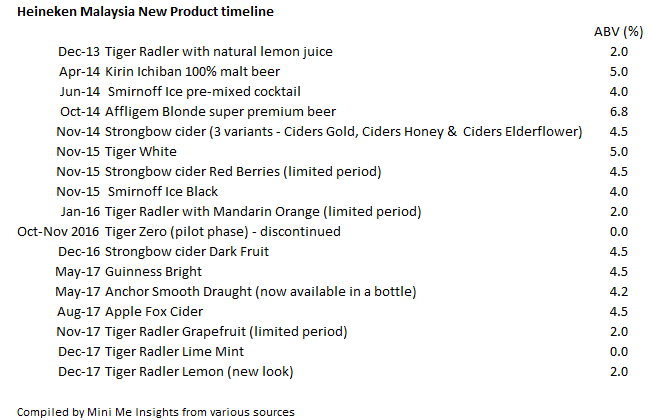 Also launched in December 2017 is the limited edition Grapefruit variant with a 2% ABV.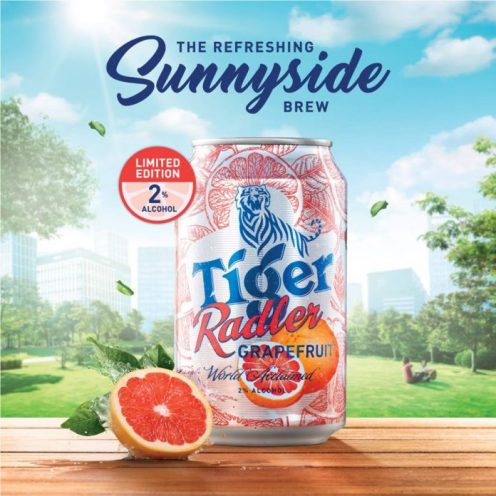 2% ABV for new Tiger Radler Lime & Ginger in Singapore
In Singapore, Heineken debuted the new limited edition flavour Tiger Radler Lime & Ginger with a 2% ABV and the sleek can for the existing Tiger Radler Lemon.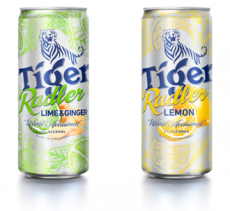 Sleek can to meet today's demand
The new can size meets today's consumer preferences in terms of being sleeker, easier to hold and transport and able to chill quicker than the regular cans. "At Tiger Beer, we always strive to be at the forefront of innovation. Our new sleek cans are more stylish and sophisticated, an appearance that is as refreshing as the much-loved Tiger Radler within," says Ms Venus Teoh, Marketing Director at Asia Pacific Breweries Singapore.