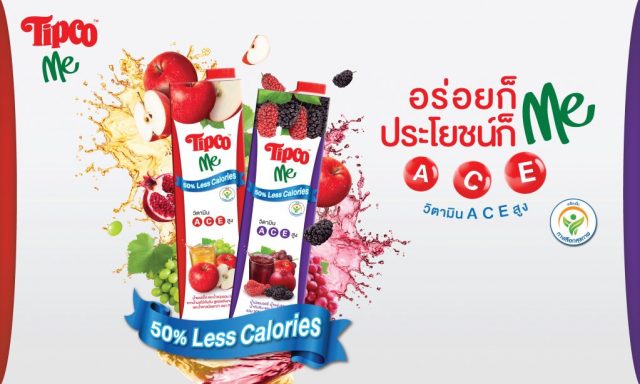 Amidst the struggling juice market in Thailand and the sugar tax,  Thailand's Tipco Foods Plc has rolled out Tipco Me in November 2017. Touted as a premium range of low-sugar, low-calorie juice, Tipco Me contains 50% less calories, 50% less sugar and rich in vitamin A,C and E.
The juice, sweetened with stevia extract, features the Healthier Choice logo issued by the Nutrition Promotion Foundation at Mahidol University.

Juice market heading south
Nielsen's data shows the Thai juice market decreased by 6% year-on-year in the 12 months to June 2017 as cited in the Malee Group Plc Q2/2017 Opportunity Day Presentation. The sharpest decline is seen in others and economy market, down 16% respectively, premium market (100% juice) fell 0.4%, while medium market (40-99% juice) rose marginally by 0.3% and super economy (under 19% juice) surged 13%.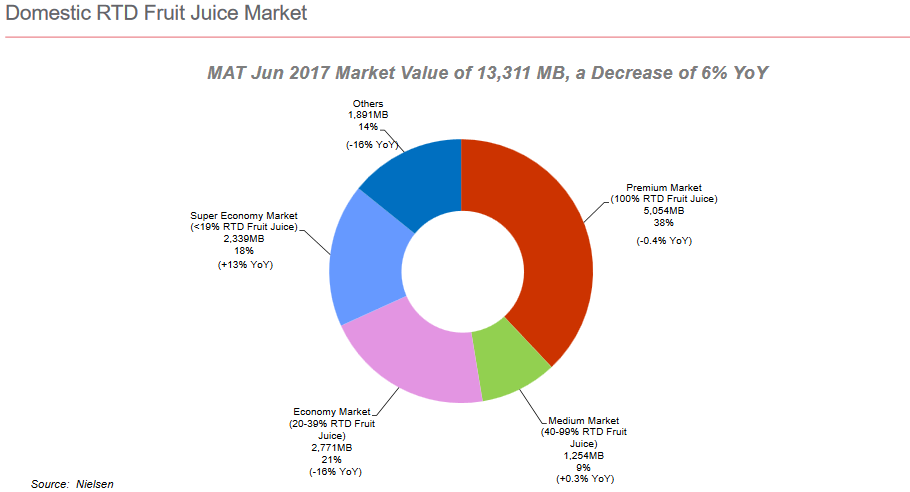 For the first nine months of 2017, Tipco's beverage segment reported a 5.6% decline in revenue (including export) compared with the same period a year ago. Domestic sales of all products declined 2.7% year-on-year.
Premium market growing
The premium juice UHT market bucked the trend with a 2% year-on-year growth, according to Nielsen. This premium segment was worth THB 4.72 billion accounted for 35.5% of overall sales with Tipco taking a 28% value share MAT June 2017, followed by Doikham 22% and Malee with 21%. The slide does not have the definition of what constituted premium juice. However, it does shows the premium segment is growing.
Tipco Foods Managing Director Ekaphol Pongstabhon said in the press release during the launch of Tipco Me that the less-calorie, less-sugar segment has been growing by 51% to THB 77 million. This is a segment that is worth looking out for in 2018.