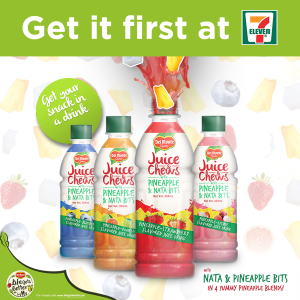 Del Monte has launched Juice & Chews with Pineapple and Nata Bits in the Philippines. The new Del Monte Juice & Chews is seen as a bit to capture a slice of the growing snacking market.
Consumers are snacking more frequently as the definition of "snacking" has broadened. Snacking used to be equated to junk food but now a snack can mean anything from yogurt to bread. Some consumers are eating smaller meals and snacking throughout the day rather than going for three big meals.
With nata de coco, it provides a chewy sensation and a sense of filling. The drink is described as "get your snack in a drink."
It is available in four flavours – blueberry, lychee, strawberry and pomelo selling in a 350ml PET bottle.
Previous launches 
Del Monte has previously launched 100% pineapple juices in Tetra Pak carton for the family in Aug-Oct 2017, according to Del Monte Pacific 2Q FY 2018 results. It offers convenient resealable option and more affordable price per serving.
In November 2017, the white grape flavour was added, while in January 2018, the mango peach flavour was made available.
The Del Monte Fit 'n Right was transitioned to a new sexy bottle in July 2017 with the launch of the new block the sugar campaign. The new packaging has the block the sugar tag and a calorie call out.
#FitnRight is the refreshing juice with Green Coffee Extract. It is clinically tested so it may help block sugar from the food you eat and may help reduce fat. ASC REF NO. D026P082517D

Posted by Del Monte Fit N Right on 6hb September 2017