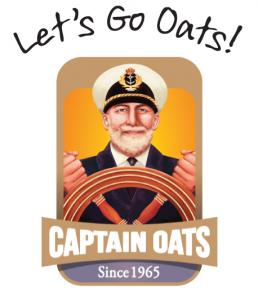 AWARDED SOBA 2017 BEST IN GLOBAL MARKET PLATINUM AWARD
BUTTERWORTH, 9 February, 2018 – Oats are one of the most popular staple breakfast meals globally, including Malaysia, but many of us might not know that although oats are not planted in Malaysia, the 1st and ONLY oats milling plant in South East Asia is actually a Malaysian company located at Butterworth, Penang known as Federal Oats Mills Sdn. Bhd. (FOM).
FOM is currently exporting to more than 35 countries across South East Asia, South Asia, Middle East, Africa and China. Established since 1965, FOM has been processing oatmeal products under the brand Captain Oats as well as acting as an OEM manufacturer for other companies. Instant Oatmeal, Quick Cook Oatmeal and Rolled Oats are FOM's most popular products. Since 2 years ago, FOM has launched a new range of oatmeal product called Eazy-Go Oats. Aiming to target the health-conscious and busy young adults segment, Eazy-Go is currently available in Malaysia and Singapore. 
For more than 4 years in a row, FOM has been registering a remarkable high growth performance and it has also managed to achieve an impressive CAGR of 28.7% with the export market contributing 82.3% of the total revenue for FY 2016/17. FOM is also regarded as one of Malaysia's export champion, having gained a market leader position in the Middle East, especially in countries like Oman and Saudi Arabia. According to AC Nielsen report 2016, FOM's house brand – Captain Oats is the No. 2 brand in Singapore – trailing closely just behind the global brand leader.
"Our foundation for steady growth lies in our unique Oatifresh™ Process and our adherence to various international quality standards. Such efforts allow us to deliver fresh and consistently high quality products to our customers.  But the journey to become a global product, company and brand, requires more than just producing quality products. We also have to thank our international partners and distributors for their total commitment to grow the market together with us. Just believing in our vision is not enough – the FOM team also works hard to achieve our vision of becoming the preferred brand for healthy meals and subsequently, allowing the global community to enjoy the best of everyday life." says Michael Chew, Executive Director of Federal Oats Mills.
The Captain Oats brand has also been awarded the National Mark of Malaysian Brand Certification as a recognition of its brand excellence, while FOM's global market success has also received equally noteworthy acknowledgement when it was accorded the highest honors with two prestigious awards – the Best in Global Market (Platinum Award) and the Best in Marketing (Silver Award) at the recent The Star Outstanding Business Awards (SOBA) 2017.
The Global Oatmeal Market is expected to reach a value of USD 2.50 Billion by 2022 (Zion Market Research) and globally, the Muslim community's expenditure on food and beverage is estimated to reach USD 1,128bil, growing 4.3% from USD 1,081bil in 2013 and potentially rising to USD 1,585bil in 2020, according to the Malaysia Halal Export 2015, Halal Industry Development Corporation 2016. "We are foreseeing high growth rates for the oatmeal market as more and more people around the world, especially in developing nations, are getting more health conscious. FOM is located strategically in South East Asia and is certified Halal and these two major factors provide us with a distinct advantage and a competitive edge in the global market." added Michael Chew.
FOM has also announced in Aug 2017 that they will expand their operations by establishing a new production facility at the Halal Food Zone, Penang Science Park in Bukit Minyak, with an investment of RM120 mil, to cater to growing demand for oats-based products. The new plant will see the increase of the company's production volume to about 4 times of its present capacity. "FOM is committed to invest heavily in R&D in order to develop new product ranges to meet the ever-changing demand from young adults. Among these will be oats-based cereal and food products which will deliver the hearty goodness of oats to consumers worldwide." Michael explains.
About Federal Oats Mills Sdn Bhd
Captain Oats is the 1st and only oats milling plant in South East Asia. We produce oatmeal under the Captain Oats brand.  We export to more than 35 countries across South East Asia, South Asia, Middle East, Africa and China. Our products are mainly categorized into 4 categories, namely, Instant OatMeal, Quick Cook OatMeal, Rolled Oats and the recently-launched Eazy-Go Instant Oatmeal / Porridge.
Website: www.mycaptainoats.com