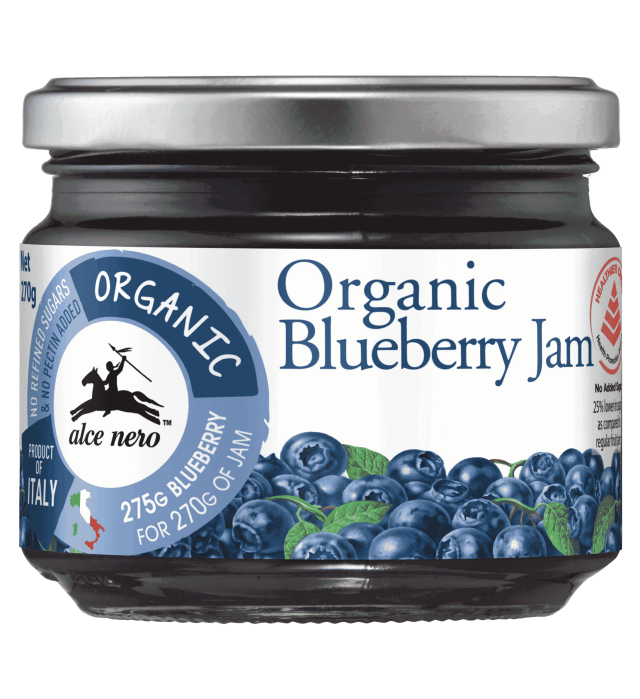 Shah Alam, 7 October 2021 – Organic Month is a month-long campaign aimed at raising awareness of the many benefits of organic food and farming including greener, cleaner food, reduced exposure to pesticides, sustainable agriculture practices and helping to combat climate change, and maintaining biodiversity.
Alce Nero, the leading organic brand in Italy, is challenging you to Go Organic with Alce Nero for a full day, a week or a month to discover organic eating and its effects on your health and well-being. To make it easier to adopt organic food into your daily diet Alce Nero has created a series of delicious, easy to prepare recipes that will take you through breakfast, lunch, dinner, even snacks and desserts!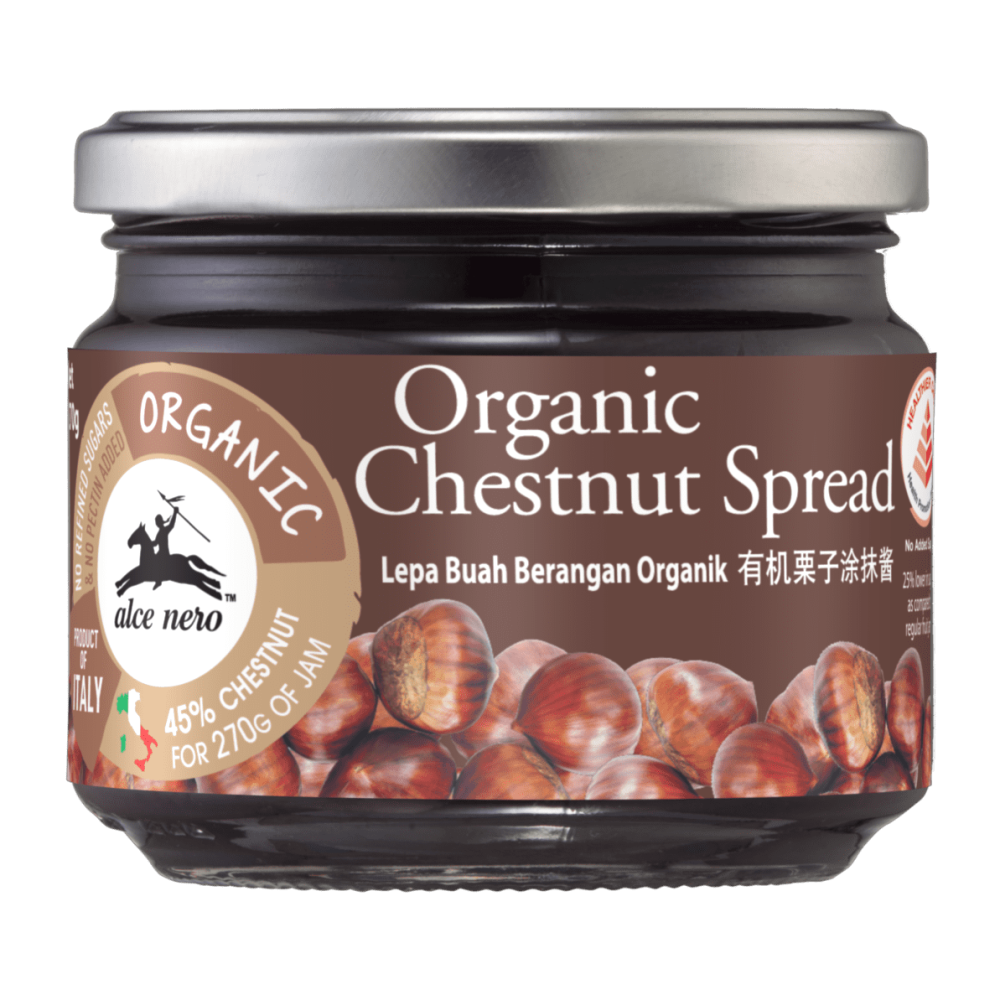 Try Alce Nero range of extraordinary jams, spreads and honey including the newly introduced Alce Nero Organic Blueberry Jam, and the Alce Nero Organic Chestnut Spread that retail for RM22.90 each.
Alce Nero Organic Blueberry Jam is made from more than 100 grams of fruit per 100 grams of finished product; without pectin, artificial flavoring or food colouring. The organically grown and harvested berries are cooked using the vacuum-pan method that uses low temperatures and extremely short cooking time to preserve the aroma, flavour and conserve nutrients. The unique Alce Nero Organic Chestnut Spread has a sweet, intense flavour, with an easy to spread consistency. Only chestnuts cultivated in Italy are used to make the chestnut compote, without any added pectin.
The wide range of Alce Nero pastas, pasta sauces, jams, olive oil and vinegars add variety, and the intense natural taste of organic goodness to every meal.
Pro tip: To experience the benefits of organic food, go organic for at least a week to feel and taste the difference. Use good quality organic ingredients during this time. Go easy on seasonings to enjoy food that you trust as it should be. If you have family members who are resistant to going organic, plate your meals to give them the full sensory experience.
Breakfast: Apple Cinnamon Chestnut Spread Toast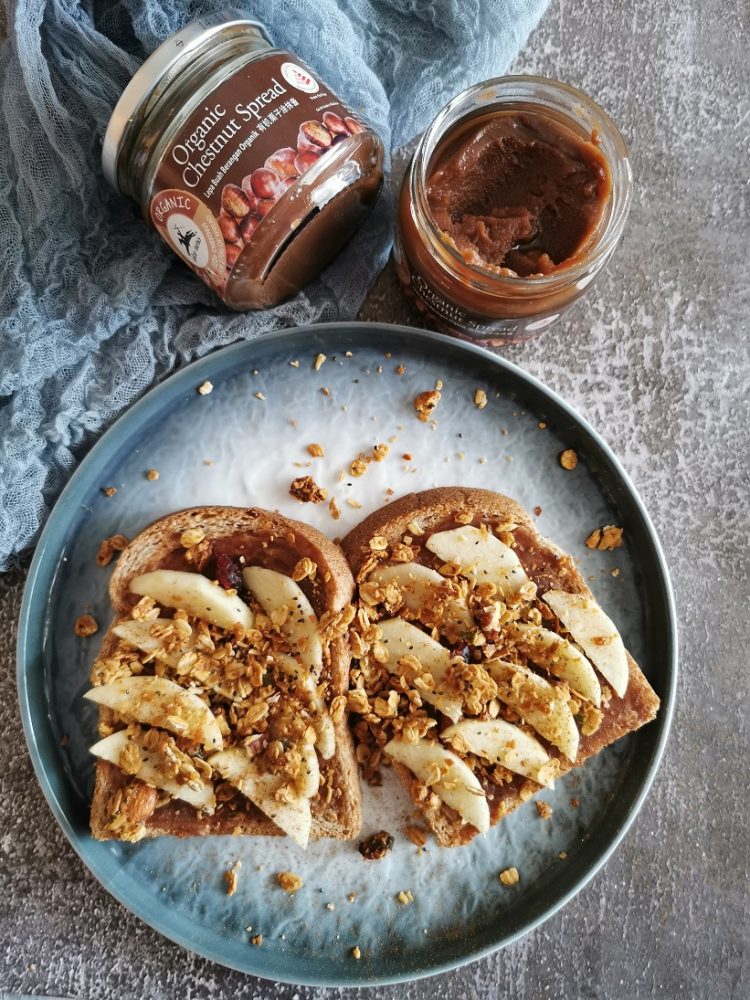 This organic delight is rich in autumnal flavours of apple, cinnamon and chestnut. The textural symphony of smooth chestnut spread, grainy muesli, crisp apples and crunchy toast make this an all-time favorite.
Toast whole meal bread, add a generous layer of chestnut spread, sprinkle some crushed muesli, then arrange sliced apples to cover before adding more crushed muesli. Finish with a light dusting of powdered cinnamon. Drizzle some honey over for added sweetness, if desired.
Lunch: Laksa Johor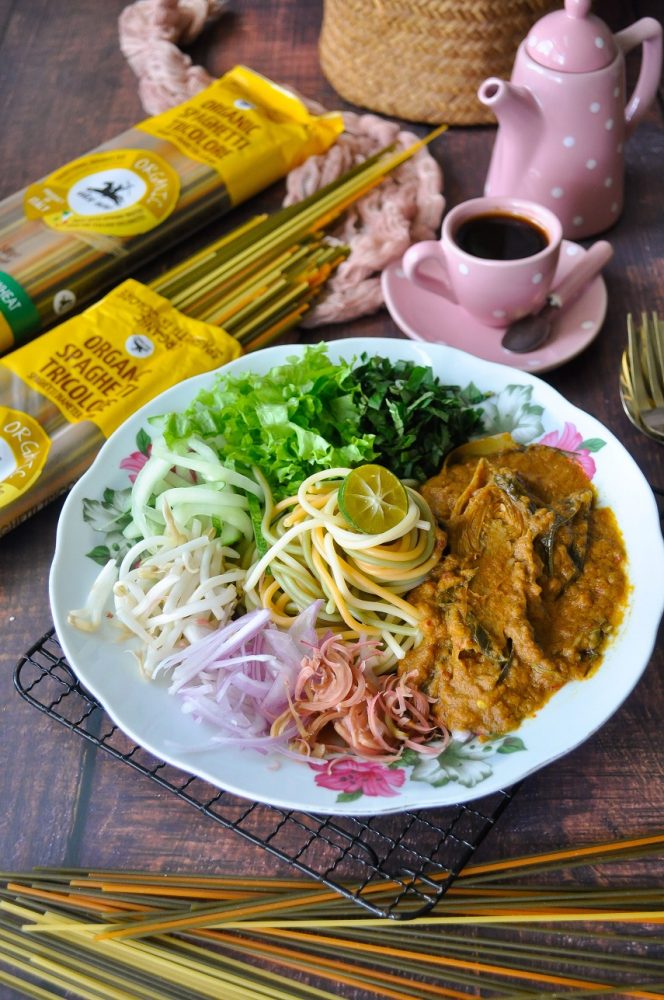 Malaysian cuisine is extra delicious when it is organic for example this nutritionally balanced Laksa Johor that uses Alce Nero Organic Tricolore Pasta instead of traditional laksa noodle.
Boil fish such as fresh sardines with water, debone and lightly blend. Reserve half a cup of the fish stock.
Prepare the pasta according to the instruction on the pack.
Blend 2 stalks of lemongrass, 5 cm of ginger, 5cm of galangal, 2 large onions, 3 dried chilies and 8 dried shrimp, fry until fragrant. Stir in the blended fish, then add fish curry powder, santan, kerisik and the served fish stock. Incorporate well, bring to the boil and allow to thicken.
To serve: place a nest of Tricolore pasta in a shallow bowl, pour over the fish laksa and add julienned cucumber, blanched bean sprouts, finely sliced long beans and onions, fresh basil and sliced calamansi lime.
The explosion of fresh, tart, spicy and rich flavours is worth the longer prep time. You can make the fish stew in advance.
Anytime Snack or Dessert : Yoghurt Parfait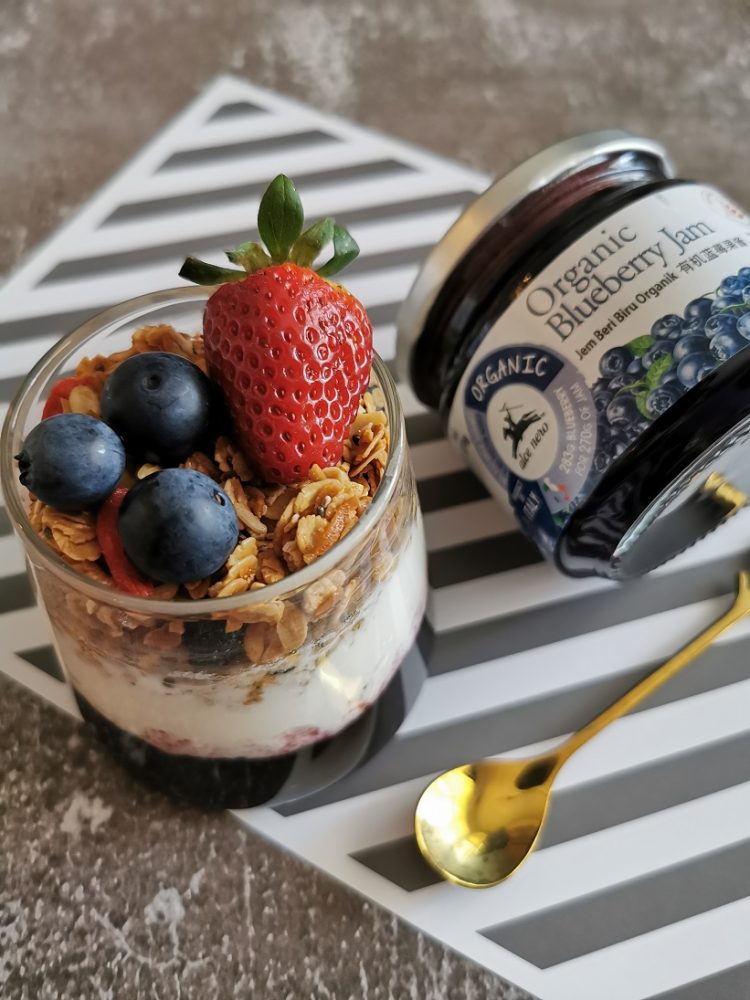 This Yoghurt Parfait is delicious, healthy, organic and Instagramable that will become a go to breakfast, snack or dessert especially on hot & humid days.
In a clear glass or jar, lay down Alce Nero Organic Blueberry Jam generously, layer with Greek yoghurt, top with crunchy granola, then decorate with fruit of your choice – berries such as strawberries are pretty, and nutritious. Add a drizzle of Alce Nero Organic honey for additional sweetness.
Take a pix, post it to your social media and dig in. While some prefer to stir the layers, other enjoy deconstructing each layer until they reach the blueberry jam at the bottom.
Can be made ahead for parties.
Dinner: Chicken Penne Goreng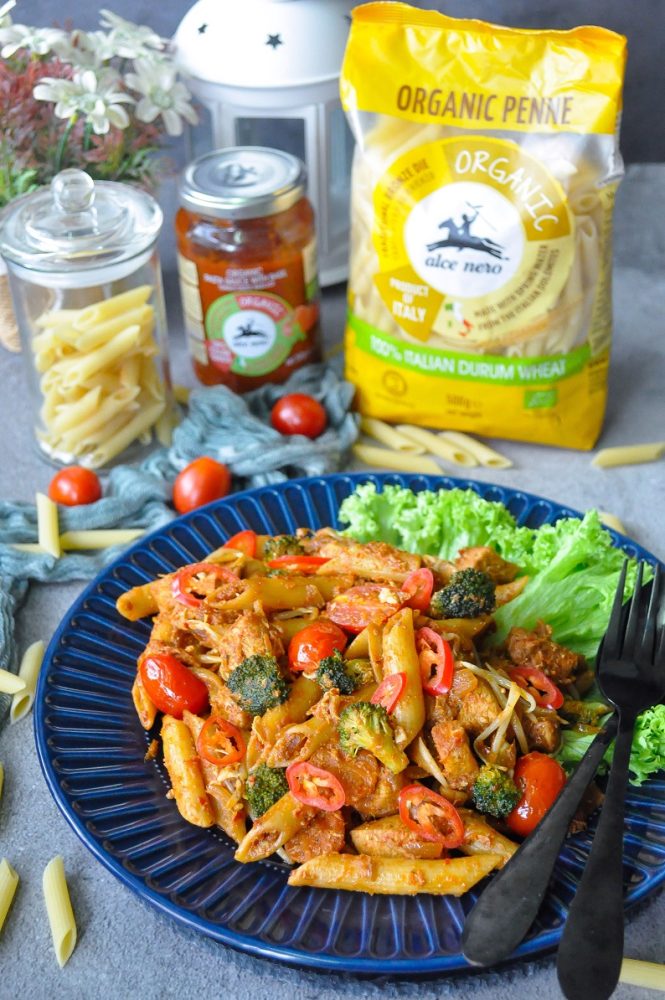 This is quick, organic chicken penne goreng is a hearty meal that is quick to whip up. Perfect for those days when you're tired after work but still want to keep to your healthy organic eating plan.
Cook the Alce Nero Organic Penne until al dente, drain and set aside.
In a large pan fry onions, shallots, sliced tomato and tofu until fragrant. Stir in chilli paste ad Alce Nero Organic Pasta Sauce and allow to cook. Then add cubed chicken and carrot, cooking until the chicken is done. Add the cooked penne, and whisked eggs, and mix well so the eggs bind with the other inredients. Finally mix in the spring onions and beansprouts until heated through.
Before serving sprinkle some sliced chilli.
Fusion organic cuisine that is healthy, tasty and quick to prepare.
Get the full recipes and many more at https://alcenero.asia/recipes.html or visit Alce Nero social media page at https://www.facebook.com/AlceNeroMalaysia/ and https://www.instagram.com/alceneromy to Go Organic with Alce Nero.  Alce Nero Organic Products are sold at AEON, Jaya Grocer, Village Grocer, Ben's Independent Grocer and selected supermarkets.