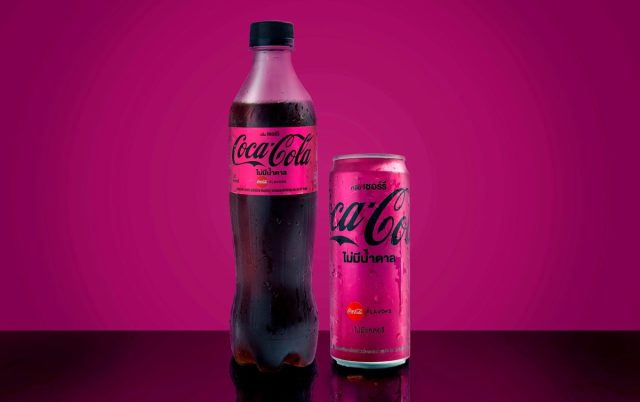 Monday 11 October 2021 – The Coca-Cola system in Thailand, comprising ThaiNamthip Ltd., Haad Thip Plc, and Coca-Cola (Thailand) Ltd., is introducing 'Coca-Cola Zero Sugar Cherry flavor', the favorite flavor among Coca-Cola flavor drinks in the United States[1] to Thai consumers. The new zero-calorie sparkling beverage features a balanced combination between the crisp, delicious taste of favorite Coca-Cola Zero Sugar with the aroma of cherry to deliver a refreshing uplift for any time of day – without sugar.
Coca-Cola is building on the accomplishment of its Zero Sugar variant, launched earlier this year, by introducing this latest innovation to create excitement in the Thai soft drink market. The beverage company's move to expand and provide a wider variety of Coca-Cola flavors for Thai consumers to experience is in line with its consumer-centric business strategy of becoming a 'total beverage company'. The launch of Coca-Cola Zero Sugar Cherry will be supported by a full range of marketing activities including TV and digital commercials, out-of-home media, media channels at point of purchase, in-store media, and other special digital content.
The great taste of Coca-Cola Zero Sugar Cherry is now available in 325ml aluminum cans and 500ml PET bottles in all stores nationwide. For additional information, visit https://www.facebook.com/cocacolaTH
The Coca-Cola system in Thailand consists of Coca-Cola (Thailand) Limited as the brand proprietor responsible for marketing activities, and its two local bottling partners – ThaiNamthip Ltd responsible for 63 provinces around Thailand and HaadThip Public Company Ltd serving 14 southern provinces.
The Coca-Cola system in Thailand is the nationwide market leader for non-alcoholic beverages. In addition to Coca-Cola, the Coca-Cola system's portfolio of beverages in Thailand includes Coke, Fanta, Sprite, Schweppes, A&W Root Beer, Minute Maid Splash, Minute Maid Pulpy, Namthip and BonAqua.
[1] Coca-Cola (Thailand) Ltd. calculation based in part on data reported by Global Compass Nielsen GTC Metrix (US market) through its Retail Index Service for the Soft Drink Category for the 12-month period ending August 31st, 2021.