PT Calpis Indonesia, the maker of Calpico fermented milk drink popular, has introduced Calpico Concentrate, the first of its kind in Indonesia. Calpico Concentrate is a non-carbonated beverage that has undergone lactic acid fermentation. Now in concentrated format, the drink is made from high quality non-fat milk and do not contain artificial colorants or preservative.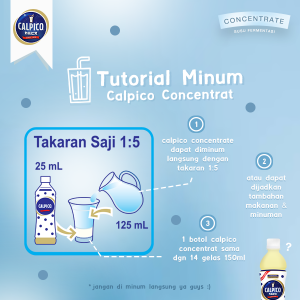 To prepare, just add 125ml of water for every 25ml of Calpico Concentrate at a ratio of 1:5. Each bottle of Calpico Concentrate can make 14 x 150ml glasses of Calpico.
Expand usage of Calpico 
The launch of Calpico Concentrate is seen as a move to expand the usage of Calpico in the foodservice industry or at home. Calpico Concentrate is used as an ingredient to create new cocktail/mocktail.
According to the recipe on Japancentre.com, to create Calpis Milkshake, all you need is 180ml calpis concentrate, 240ml milk and 250ml vanilla ice cream. Consumers can also use it to produce 'White Sensation' with shochu and 'Snow White' with sake.