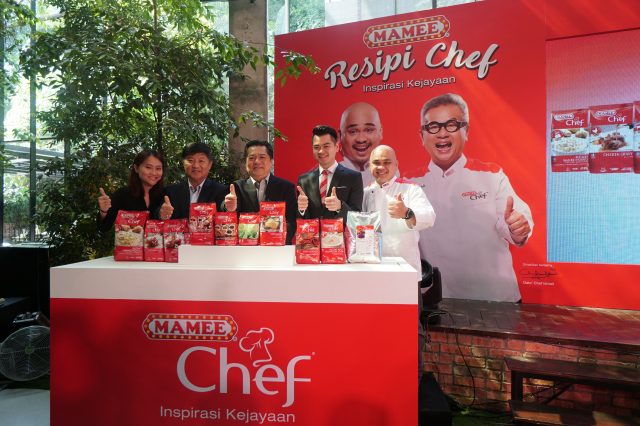 Shinsegae Mamee Launches Foodservice products to help food operators save time and cost while maintaining authentic flavour and taste
15 March 2018
Kuala Lumpur: Mee Goreng, Nasi Goreng Kampung and rojak buah are synonymous with the food industry in Malaysia and a well-managed food business can be lucrative and may be able to springboard the "Bottom 40%" (B40) community into higher income bracket.
The B40 group consisting of blue-collar, low income graduates and low-income graduates, housewives and retirees with a median household income of RM3,000 a month.
In conjunction with the launch of its new Shinsegae Mamee Foodservice convenience products for food operators, Shinsegae Mamee organised a panel session with stakeholders such as GIATMARA, Persatuan Pengusaha Restoran Muslim Malaysia and Shah Alam City Council to discuss the options available for aspiring food entreprenuers to succeed.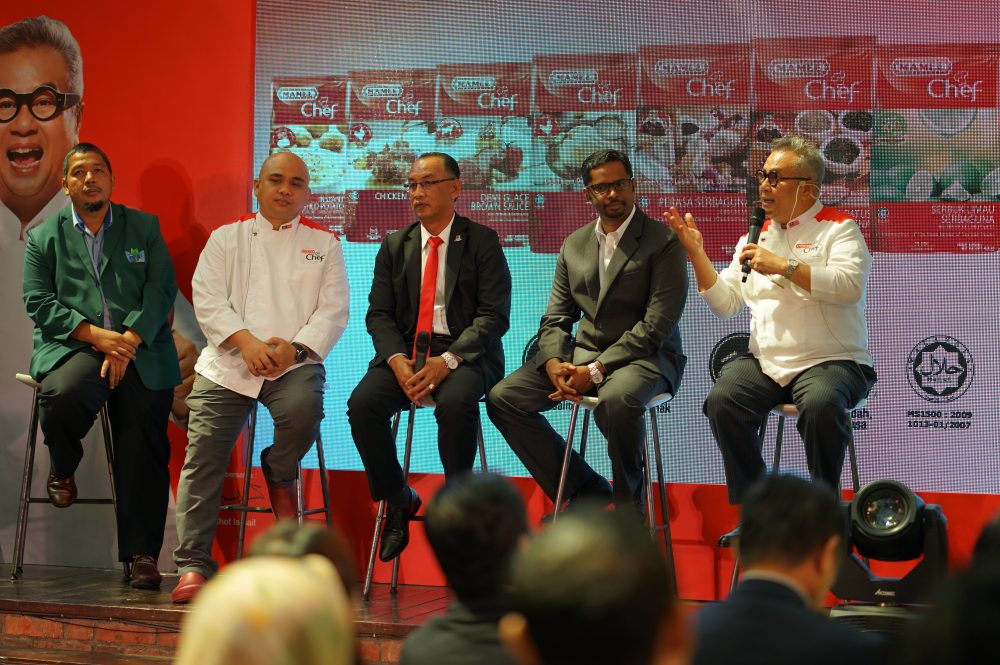 At the panel session, GIATMARA Chief Executive Officer Haji Jamal Nasir Othman said there is a need for 91,000 skilled workers in the Food & Beverage by 2020.
"It is estimated that about 1,000 aspiring chefs enroll in GIATMARA F&B courses each year. So far, GIATMARA has trained 10,570 chefs. At GIATMARA, we hope that these trained chefs can work be trained to manage their own businesses," he said adding that Ministry of Rural and Regional Development (KKLW) has taken the initiative to encourage entrepreneurship by introducing programs such as Mobilepreneur & Mobile Truck as well as Rintis Niaga (incubator) program through GIATMARA.
 "It is a very good government policy in propelling the B40 community into the M40 (Middle 40%) and T20 (Top 20%)," Jamal said.
 The GIATMARA CEO also said that strategic cooperation with industry players is important to ensure that the quality of trainees produced is based on the current needs.
He added that GIATMARA is keen to work with Shinsegae Mamee given that the recently launched Shinsegae Mamee Foodservice products are attractive and are able to help GIATMARA trainees in terms of cost savings and time while maintaining the authenticity taste and flavour.
Also speaking at the panel session was Shinsegae Mamee Executive Faizul Hazly Ghazali who said that cooking ability alone is insufficient in helping a chef to succeed in the food business.
"To be successful in the food entreprenuer, the chef needs to be able to manage time and cost effectively while maintaining the quality of the food served," Faizul said.
Inspired by the three key success pillars, Shinsegae Mamee released 10 convenient products for the food service operators. The products are made with natural ingredients and do not contain added flavorings and preservatives.
"When we hear the convenience products, the first perception that comes to mind would be 'not authentic'. But many successful chefs have taken short cuts in the kitchen by using convenient products to save cost and time. 
"However, the convenient products used should be of high quality to preserve the authenticity of flavours," Faizul said. 
The Shinsegae Mamee executive chef also added that Shinsegae Mamee Foodservice is trying to change that perception ensuring that no added flavourings and preservatives are used in the products so that food operators are able maintain the authenticity of taste while saving time and cost.
ABOUT MAMEE-DOUBLE DECKER
MAMEE-Double Decker (M) Sdn Bhd was founded in 1971 when Group Executive Chairman, Datuk Pang Chin Hin started to produce dried noodles and vermicelli together with his eldest son, CEO, Tan Sri Pang Tee Chew. This small business, then known as Pacific Food Products and located in Ayer Keroh, Melaka set the wheels turning for what eventually became MAMEE-Double Decker. Datuk Pang's other sons, COO Datuk Wira Pang Tee Nam together with the rest of the family – now in their 3rd generation – developed it into one of the largest food and beverage manufacturers in Malaysia. MAMEE-Double Decker was eventually incorporated in 1991 and became publicly listed in the Kuala Lumpur Stock Exchange a year later and has become private company by the year 2012. The company has set up plants across Malaysia – including in Kuala Lumpur and Kuantan, and currently employs over 2,000 staff – before expanding to Myanmar, Indonesia, and Middle East (future plans).
ABOUT SHINSEGAE FOOD
Shinsegae Food, one of the core affiliate companies of the Shinsegae Group which started as a department store in 1930 (Top 10 largest company in Korea in terms of combined assets with USD24.8 bil. of sales revenue recorded in 2016), has the aim of strengthening the core elements of the food industry. Shinsegae Food has streamlined its core functions into a Linearly aligned system, ranging from the sourcing of raw materials to R&D, production, processing, storing, logistics, marketing and sales, a first in the food Industry for the last twenty-years.
Shinsegae Food, a leader in the domestic food catering services for the last two decades, is now focused on developing a new premium food catering service that advances the Korean food service market by combining a food catering and a restaurant business. Shinsegae Food is operating a professional and advanced R&D organization that continues to increase the competitiveness of food manufacturing and strives to be the leading company in Ready to Eat (RTE), Ready to Cook (RTC) and Home Meal Replacement (HMR) products by investing in new technologies and facilities.
Besides that, Shinsegae Food have led the global sourcing business in Korea that involves finding top global brands of food products, obtaining exclusive licenses, and supplying them to domestic markets. Indeed, we have launched new and specialized restaurants, including Olbaan, O'slo, Gramercy Hall and Johnny Rockets, to reflect the rapidly changing trend of dining culture.