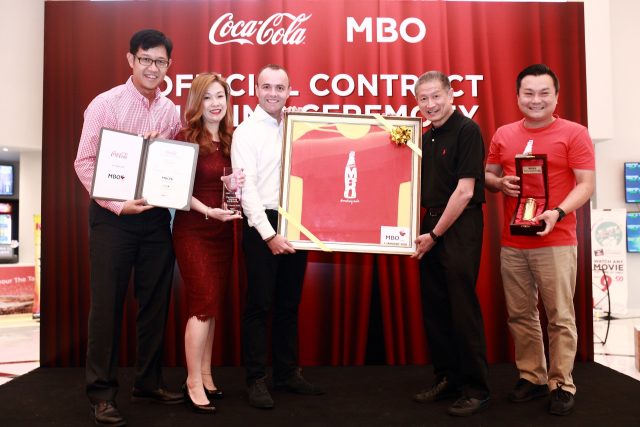 MCAT Box Office Sdn Bhd (MBO Cinemas) has appointed Coca-Cola Malaysia under a new beverage concession agreement that will feature a completely new range of drinks choices to quench the thirst of cinemagoers at its 27 cinemas across the country.
MBO Cinemas is the third largest cinema chain in Malaysia, with 27 locations and 213 screens nationwide that offers special hall such as BIG SCREEN, KECIL, MX4D and PREMIER to cater to all kinds of cinemagoers from the discerning and adventurous to couple and family with young children.
Under the four-year agreement, the wide variety of halal beverages produced by Coca-Cola Malaysia to be served include Coca-Cola Classic, Coca-Cola Zero Sugar, Sprite, Fanta Strawberry, A&W Sarsaparilla, Aquarius, Heaven and Earth Ice Lemon Tea, Minute Maid Refresh Orange, Minute Maid Pulpy Orange, Minute Maid Qoo Fuji Apple, Dasani mineral water, Glaceau Vitamin Water (Essential, Power C & Restore) and Georgia Coffee.
For an icy experience, there is also an upgrade option to Frozen Coca-Cola and Frozen Fanta Grape for only RM1 more at MBO Citta Mall, MBO Subang, MBO Setapak Sentral, MBO Kepong Village, MBO Klang, MBO Kuantan, MBO Ipoh and MBO Batu Pahat.
The agreement was officially signed in Petaling Jaya today by Gareth McGeown, Chief Executive Officer of Coca-Cola's Bottling Investment Group Malaysia-Singapore-Brunei, and Lim Eng Hee, Chief Executive Officer of MBO Cinemas.
Witnessing the signing were Coca-Cola Malaysia's Customer Development & Digital Transformation Director, Wee Li Ying and MBO Cinemas Chief Operation Officer, Cheah Chun Wai.
"The concession stand is where the immersive cinema experience all begins and we are proud to be able to improve and enhance the experience for MBO cinemagoers now with a range of icy cold beverages from Coca-Cola to go with the fresh popcorn and snacks. I would like to compliment MBO on its excellent casting decision in choosing Coca-Cola Malaysia as its co-star," said McGeown.
McGeown said the partnership with MBO is part of Coca-Cola's continued commitment to the market and its customers in Malaysia, where the Company has already invested over RM1 billion since 2010 and has last year announced an additional investment of RM500 million.
"We will continue to invest in delivering to Malaysian consumer's changing tastes and needs and to growing our presence in the country which has a positive effect on the economy, employment and importantly our local business partners like MBO."
MBO Cinemas Chief Executive Officer, Lim Eng Hee said, "Whether it is a refreshing cold drink to complement our fresh popcorns or a hot, freshly brewed Georgia Coffee, the wide of beverages offered by Coca-Cola at our cinemas will elevate the whole movie going experience."
About MBO Cinemas
MBO Cinemas has steadily grown to become a leading name in the cinema industry since it first opened its doors to Malaysians in 2005. Now one of the top three largest cinema chains in the nation, MBO shows no signs of slowing down as it has open up an additional 3 new locations in 2017, totalling to 27 locations and 213 screens. MBO strives to be Malaysia's most loved cinema brand by providing wholesome quality entertainment experiences delivered by a team of friendly and professional movie lovers. For more information about MBO Cinemas, please visit http://www.mbocinemas.com/
The Coca-Cola Company in Malaysia
In addition to Coca-Cola, one of the world's most valuable brands, the Coca-Cola system in Malaysia manufactures, markets and distributes over 80 products including sparkling beverages (Fanta, Sprite, A&W, Schweppes), zero-calorie sparkling beverages (Coca-Cola Light, Coca-Cola Zero Sugar, Sprite Zero), juice drinks (Minute Maid Pulpy), teas (Heaven and Earth), isotonic (Aquarius) and water (Dasani).
Coca-Cola has invested over RM1 billion in Malaysia since 2010, creating more than 800 jobs and touching over 75,000 customers directly with a total reach of over 200,000 customers across Peninsula Malaysia and East Malaysia. Through its programmes and partnerships Coca-Cola Malaysia aims to make a lasting positive difference in the local community.
From recycling through partnership with the Malaysian Nature Society and Universiti Putra Malaysia (UPM), to working with Raleigh International and Muslim Aid Malaysia to provide access to clean water for more than 22,000 villagers in rural Sabah, and economically empowering women through the Coca-Cola KU entrepreneurship programmes – Coca-Cola is committed to building sustainable communities in Malaysia.