Mighty White Mango Fruity Cream Roll has been in the market for several months. It is likely Mighty White is the first bread company in Malaysia incorporating mango as a filling in its cream roll, making it an innovative product.
Puratos survey reveals consumers want more fruit and bigger pieces 
Puratos, the food ingredient suppliers dedicated to bakers, patissiers and chocolatiers, said in its "Taste Tomorrow" survey that there is "a distinct consumer preference for fruit because it is both natural and tasty", reported foodingredientsfirst.com.
The portal reported citing Jo Libensl Global Category Manager responsible for all Puratos fruit fillings, that "both the consumer and our customers are increasingly looking for more naturalness in their fillings. They want more fruit and bigger pieces, but combined with a high baking stability to enable them to use the fruit as a filling for croissants and Danish pastries."
What Mini Me thinks
For the new Mighty White Mango Fruity Cream Roll, the concept of having mango flavour as a cream filling is innovative but it can go one step ahead by adding real fruit pieces. Even though "with real mango" is mentioned on the packaging, when you actually eat it, you do not feel the real mango texture in the cream.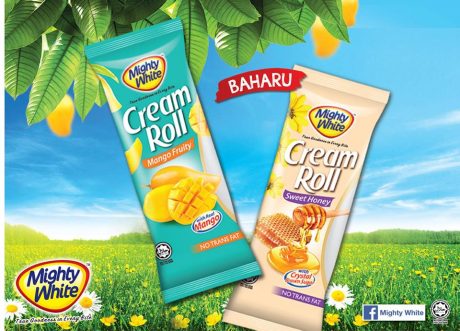 Also launched together with Mango Fruity in early 2018 is Sweet Honey with crystal brown sugar.