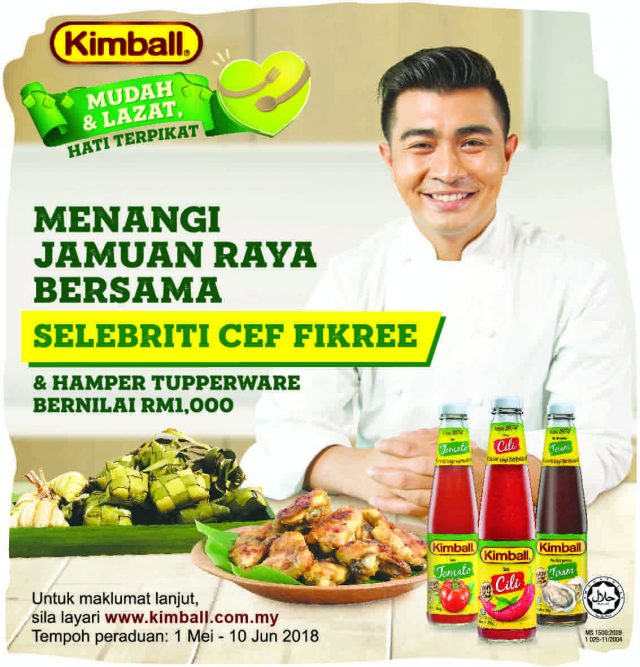 Petaling Jaya, May 30, 2018 – Raya open house is such a joyful celebration to attend especially as family and friends come to gather for the lavish spread of local celebratory delicacies. But to host it would be a different story altogether. The stress from choosing which decorative items to buy, to purchasing new clothes for the whole family and then planning out your Raya spread could be overwhelming sometimes.
Wouldn't it be wonderful to have relatives and friends over to your house to enjoy a Raya feast with the company of a celebrity chef, without you having to break a sweat organizing or spend a single cent to cook up a feast?
As part of Kimball's Mudah dan Lazat, Hati Terpikat campaign, Kimball is organizing a contest, teaming up with celebrity Chef Fikree Aznan to host a Kimball Raya open house feast for two lucky Kimball users.  Chef Fikree and Kimball will be coming over to your home bearing a mouth-watering spread of delectable Kimball Raya festive food consisting of appetizers, main dishes and dessert such as Kimball Festive Raya Gado-Gado, Kimball Chicken Kurma with Kimball Tomato Chickpeas Rice, and Kimball Special Dates Cake, just to name a few, to serve 10 people.
As part of a token of appreciation to thank loyal Kimball users, these two winners will also receive Tupperware hampers worth RM1,000 each. There are also 50 Tupperware hampers worth RM268 up for grabs.
 To enter this contest, simply purchase Kimball products worth RM10 and above in a single receipt, answer a simple question and submit the answer as well as your personal particulars via WhatsApp to +6016.454.7909. Contest is open to all Malaysians aged 18 and above residing in Malaysia. Hurry, participate now as the contest ends 10 June 2018.
For more information on Kimball's contest its terms and conditions, visit Kimball's website at http://www.kimball.com.my/, or log on to their Facebook page at https://www.facebook.com/KimballMalaysia/!
About Kimball Malaysia
With a heritage of over 40 years, Kimball is a Malaysian food brand that has a wide range of products such as Sauces (Chilli, Tomato, Oyster, Black Pepper, BBQ), Dressing (Mayonnaise), Dry Pasta and others to create flavorsome possibilities for less. Kimball encourages Malaysians to add Kimball products in their meal preparation to make the dishes tastier at affordable cost.