Cold brew and nitro coffee are no stronger to coffee connoisseurs in Malaysia. Starbucks started offering cold brew in Malaysia in October 2016 and nitro cold brew in September 2017. In addition, there are also a host of third wave coffee shops in the country.
Thanks to the efforts of the foodservice industry which has cultivated the cold brew scene for years, Nescafe Malaysia finally felt it is the right time to introduce its latest creation – Nescafe Cold Brew Latte for the RTD coffee category. According to the JAKIM site, there is another variant known as Nescafe Cold Brew without latte.
Started out in foodservice in the US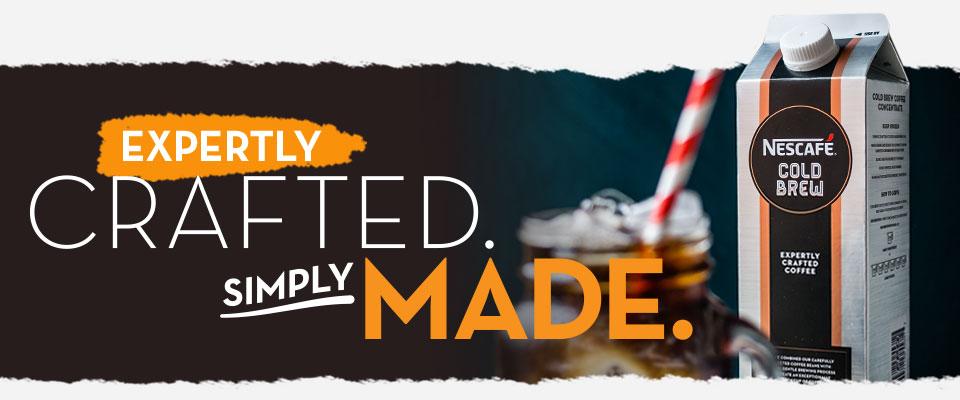 Nestlé Professional North America introduced Nescafe Cold Brew Coffee in the US in 2017. Available in packs of twelve, 30 oz. cartons, it is described as "an easy, efficient alternative to the operational complexity of slow brewing cold brew coffee in house." The press release mentions the "Nescafe Cold Brew Coffee Concentrate is made with only coffee and water – no preservatives or additives – using select beans that have been sustainably sourced."
Premiumising Nescafe RTD coffee
In Malaysia, the Nescafe Cold Brew Latte has essentially premiumised the company's RTD coffee range and elevated the out-of-home, on-the-go coffee drinking experience to the next level. The 240ml Nescafe Cold Brew Latte is priced at RM 3.90 at 7-Eleven, 34% more expensive than the ordinary 240ml Nescafe Latte RTD, which has a much lower price tag of RM 2.90.
Nescafe Cold Brew Latte is described as having a smooth taste and is brewed cold. Available at 7-Eleven Malaysia outlets. The sugar content is 5.6g per 100ml serving with sugar, stevia and creamer as sweeteners. The key ingredient is cold-brewed coffee extract.