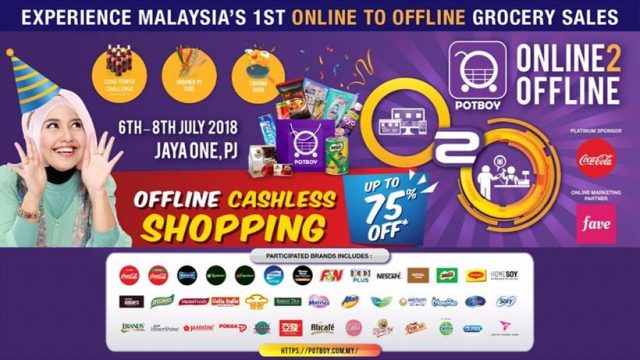 Malaysia's first online to offline ("O2O") grocery sale to take place from 6th July to 8th July at Jaya One, Petaling Jaya. The event is organized by local online retailer Potboy Groceries in partnership with mobile payment platform, FavePay.
The O2O event is first of its kind in Malaysia where customers are welcomed to shop their groceries at great discounted prices without carrying around cash. The event will serve as also an education platform to Malaysian public as Malaysia pushes towards going cashless in the future. All purchases will be made through FavePay. Hand-hold experience will be conducted in the event to those that never performed an Online Shopping prior to this.
The constraint of Online Shopping is now bridged with physical experience of touch and taste of grocery products that can be experienced in this O2O event. Purchases can be made after physically experience of the products and instead of the traditional carrying the groceries to the car, Potboy groceries offer free delivery with no minimum order to the doorstep (currently only restricted to Klang Valley area).
40 consumer product brands take part in this O2O Event. Amongst the well known household brand present are Nestle, Coca-cola, MamyPoko, Milo, 100 plus, Jasmine, Brand's, Maggi, Homesoy are bringing competitive prices products, great deals, free gifts offering a discount of up to 75%.
About Potboy Groceries: Potboy groceries is a homegrown Malaysian owned online groceries shopping platform that was founded in 2016 and is currently based in Klang Valley. Potboy groceries sells everyday groceries from known household brands on its platform www.potboy.com.my and delivers the groceries to the doorstep with no minimum order. Potboy Groceries insist to have its own delivery fleet in order to serve its community better. As part of caring for the environment, Potboy also uses recyclable boxes and bags to pack the groceries.