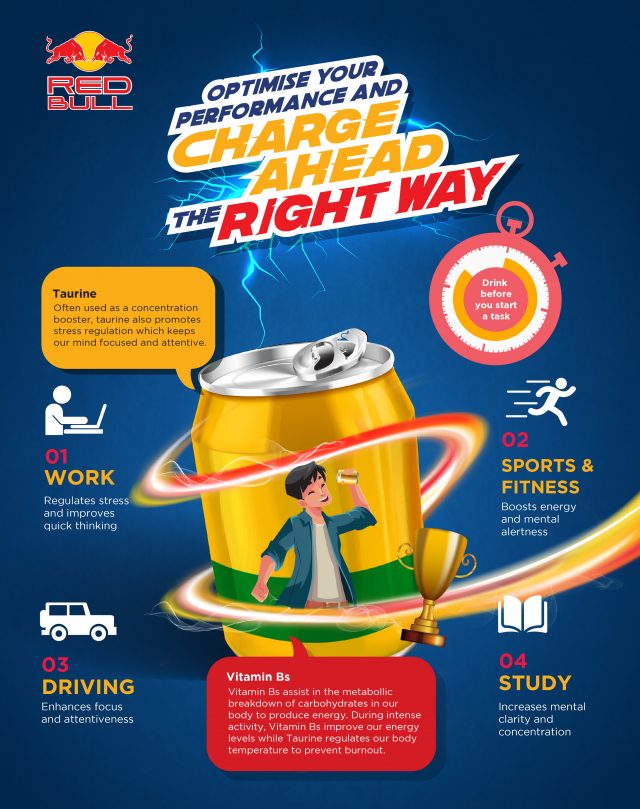 Red Bull is set to educate consumers on the right way to consume energy drinks
The all-too-familiar feeling of lethargy is a common problem for many. Be it a spontaneous decision to dine out, a gathering with friends, or just a quick run – sometimes, we just can't psych ourselves to move.
Worse still, we sometimes feel "brain dead" – an urban saying for mental exhaustion. In this case, we aren't necessarily feeling the physical signs of exhaustion, such as achy muscles, but a mental coma and lack of motivation and energy to finish tasks or activities we love.
Question of the day: "The body knows no limit which the mind doesn't." We know this, but how do we prepare our brains to maximise our performance throughout the day?
"Malaysians work long hours and also have active after-work lifestyles. Consequently, their minds and bodies need sustained energy throughout the day. As the number one energy drink in Malaysia, it's our responsibility to educate consumers on the most effective ways to optimise their energy levels, so they can always perform at their best."
Jate Samathivathanachai,
Country Manager, Allexcel Trading |Red Bull Malaysia
Answer: Taurine, a premium ingredient found in popular energy drinks (a.k.a A Gold Can of Awesomeness), such as Red Bull, has the precise energy enhancing ability to benefit the mind and body.  Other essential micro-ingredients, such as Vitamin Bs, play a key role in metabolic functions and improve mental cognitive ability. It breaks down carbohydrates, fats, and protein in the body to enhance our physical and mental abilities. Energy drinks, such as Red Bull, not only act as a fuel, but provide us with stronger mental clarity and increased concentration too.
Now, before you rush off to grab a chilled can, here are four ways in which we can optimise the benefits of energy drinks:
Four Ways to Optimise the Benefits of Energy Drinks:
Pre-activity consumption: It is best to consume energy drinks before a task for optimum results. This gives the body sufficient time to utilise the ingredients and convert them into our needed fuel.
Drink during work and study: Taurine can also help with stress regulation. It increases the performance of the heart and also promotes detoxification by binding with harmful substances and accelerating their excretion. The combined effects of Taurine help keep the mind focused and increase concentration during long, strenuous working hours.
Driving: Taurine posseses the unique ability to increase mental alertness, reaction speed, and concentration, all of which are critical for both short and long distrance driving.
During & after intense physical activity: Another function of Taurine is thermoregulation – a process that allows your body to maintain its temperature. This prevents the body's temperature from getting too high or low, therefore avoiding unnecessary burnout during and after any physical workout.
When consumed the right way, energy drinks can be viewed as our co-commander in daily battles. When in doubt, open a can, take a sip, and energise yourself to charge ahead with confidence. More information on the benefits of energy drinks can be found on Red Bull's website (http://redbull.com.my).
About Allexcel Trading Sdn. Bhd.
Allexcel Trading Sdn. Bhd. ("Allexcel") is the brand representative and exclusive agent for Red Bull® Energy Drink and Warrior® Sparkling Lifestyle Drink in Malaysia. Allexcel launched Red Bull® in Malaysia in 1993 and the brand is currently the No. 1 energy drink in the country. Red Bull has proven to its consumers its product performance in maintaining alertness, endurance and enhancing performance – stimulating both mind and body. For more information, please visit www.redbull.com.my