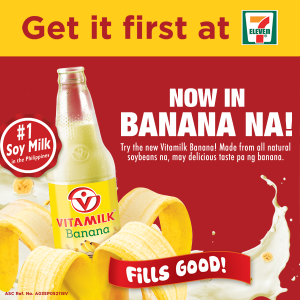 The number one soymilk brand in the Philippines Vitamilk now has a new banana flavour. It adds to the current double choco shake flavour.
LT Group, the parent company of Asia Brewery Inc (ABI), said in its 2017 President Report that its soymilk market share remains at over 80%. Soymilk contributed 10% (PHP 340 million) of total ABI revenues of PHP 3.4 billion.
LT Group did hinted a drop in market share in Q1 2018 by saying the share of Vitamilk in the soymilk category stood at over 70% during the first quarter of 2018, an indication that rival Vitasoy is eating into its market share. However, the soymilk segment continues to grow by double-digit.