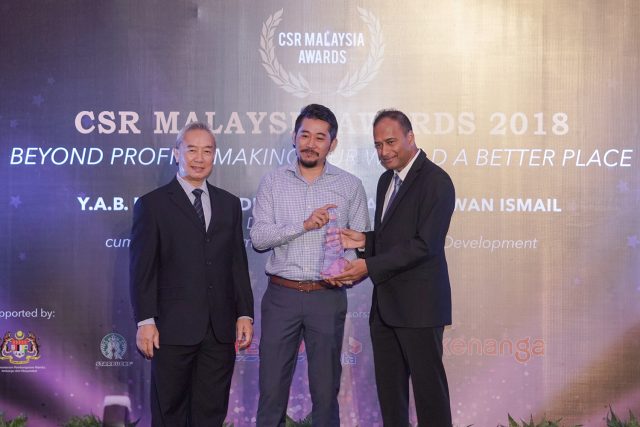 Kuala Lumpur, 26 July 2018 – The 2018 CSR Malaysia Awards was held recently to appreciate and share exemplary outreach efforts by organisations in Malaysia and among those awarded included the nation's leading standalone convenience store chain, 7-Eleven Malaysia that was awarded 'Company of The Year' for the second year running in the retail category.
Organized by CSR Malaysia Publications and endorsed by The Ministry of Women, Family and Community Development Malaysia, the CSR Malaysia Awards honour outstanding corporations in Malaysia that have excelled in the role of change agents in the socio-economic transformation of Malaysia and endeavour to promote sustainable economies and serve the needy by featuring CSR initiatives of corporations in Malaysia. The recipients of these awards have been selected by a panel of high calibre judges representing corporate and social bodies. Present at the awards was Yang Amat Berhormat Dato' Sri Dr. Wan Azizah binti Wan Ismail, Deputy Prime Minister of Malaysia, also Minister of Women, Family and Community Development, who also officiated the event.
7-Eleven Malaysia General Manager of Marketing Mr. Ronan Lee said "We are very humbled and honoured by this recognition for the 2nd year running and we would like to commend CSR Malaysia for creating this wonderful platform to promote and recognise corporate social responsibility efforts thus potentially encouraging more participation from industry players of various sectors as well as providing an avenue for corporates like us to continually developing best practises and improve our philanthropic efforts. 7-Eleven Malaysia is incredibly encouraged by this recognition and will always remain passionate about our community outreach efforts as we believe in giving back to the society that we operate in as well as striving to Always Be There For You!."
"We strongly believe that all CSR initiatives, no matter how big or small, is about bringing hope and uplift the lives of those who need support whilst providing some respite to those in need as well as educating the public and hopefully inspire change within each member of public to be an agent of change in the betterment of their lives and the community they are in, from developing a sense of self-philanthropy to fostering empathy and responsibility towards the world that we live in," concluded Lee.
At the CSR Malaysia Award 2018, 34 other Malaysian companies; both listed and private were honoured, recognised and awarded for their corporate social responsibility and sustainability endeavours. Among notable recipients include Berjaya Starbucks (F&B Retail), AirAsia (Airline), Axiata (Telecommunication), McDonald's (Quick Service Restaurant), Kenanga (Investment Banking) and Shell (Oil and Gas).
About 7-Eleven Malaysia
7-Eleven Malaysia Holdings Berhad through its subsidiary 7-Eleven Malaysia Sdn. Bhd. is the owner and operator of 7-Eleven stores in Malaysia. Incorporated on 4 June 1984, 7-Eleven Malaysia has made its mark in the retailing scene and has been a prominent icon for over 33 years. 7-Eleven Malaysia is the pioneer and largest 24-hours standalone convenience store operator in Malaysia with over 2,200 outlets nationwide and serves more than 900,000 customers daily. 7-Eleven stores can be found across bustling commercial districts to serene suburban residential compounds throughout Malaysia, from petrol stations and LRT stations to shopping malls and medical institutions. 7-Eleven is Always There For You.