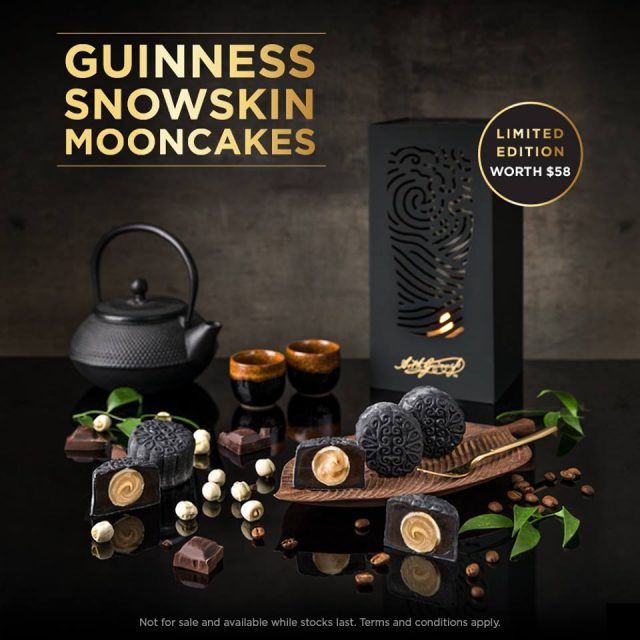 Guinness is embedding the iconic Irish dry stout into the food culture of Singapore. The limited edition Guinness Snowskin Mooncakes comes in a pack of four and is given away with every minimum SGD 90 spend on Guinness products at major supermarkets. The promotion runs until 30 September 2018 or while stocks last.
The mooncake has a stout-infused chocolate ganache cocooned in a white chocolate shell that is nestled in coffee-flavoured lotus paste. More description of the taste can be found on this site.
For consumers who are curious about the alcohol content, according to Guinness, "the alcohol used for each piece of mooncake is minimal, as a large amount of alcohol has been evaporated during the manufacturing process."
Consumers are advised to check the availability on the Guinness Redemption site. As of 14 September 2018, there are still 1,543 boxes left. Redemption can be made at Letrain Redemption Centre or add SGD 28 for home delivery. 
Guinness localising the Malaysian way
In August 2018, Guinness held a press conference in Malaysia to announce the new look for its Guinness Foreign Extra Stout and showcase the use of Guinness as an accompaniment and ingredient in food.

"Partnering with top local chef Johnny Fua from Hello @ Kitchen Mafia, Guinness has created a collectable recipe book which uses Guinness Foreign Extra Stout in a wide variety of mouth-watering dishes. From traditional favourites including Guinness-infused pork ribs, unique takes on Malaysian classics including pan mee and buttermilk prawns, to completely new creations such as Guinness pork jerky, the Guinness Foreign Extra Stout recipe collection shows the versatility of the brew outside of a glass."
"Also included in the recipe book is a selection of dishes typically found in Malaysian eateries which pair perfectly with Guinness Foreign Extra Stout as an accompaniment, from dried bak kut teh, fried carrot cake and assam pedas fish with salted egg."
The recipe is available here.
Beer infused food is not something new. The fact that Guinness is moving into that direction shows it is part of the movement by food and drink brands, which are increasingly extending their brands into newer categories to capture new consumers.