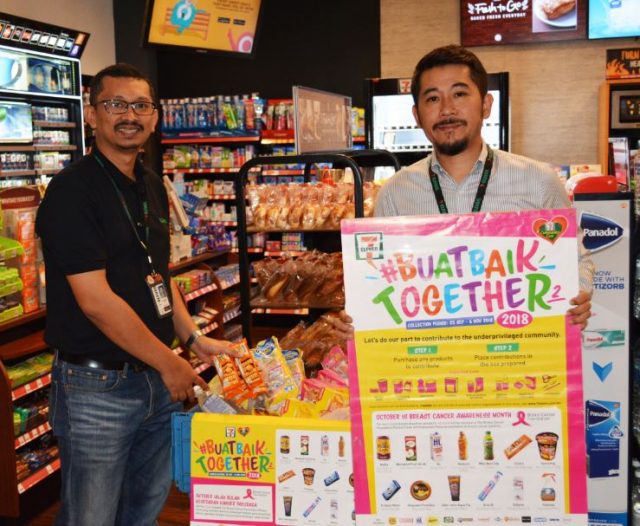 Kuala Lumpur, 28 September 2018 – 7-Eleven Malaysia, the largest stand-alone convenience store chain in Malaysia is back with yet another one of its annual CSR initiatives, #BuatBaikTogether under the Community Care program in efforts to extend its support to the underprivileged and disadvantaged community.
The campaign will run for 43 days, from now until 6 November 2018. During the campaign period, customers are encouraged to support by contributing necessities such as food, non-alcoholic beverages, household essentials and other provisions purchased from more than 2,240 7-Eleven Malaysia outlets across the nation and drop them into contribution boxes.
In 2017, a total collection amounting to more than RM1.5 million worth of supplies were gathered and distributed to 170 charity homes and not-for-profit organizations across Malaysia. Additionally, the campaign successfully raised RM10,000.00 for Make-A-Wish Malaysia, a charity organization which grants wishes of children with life-threatening medical conditions, through the contribution of 10 cents for each contribution of a selected partner brand listed by 7-Eleven Malaysia.
This year, #BuatBaikTogether is collaborating with Breast Cancer Foundation Malaysia, a non-profit organization that supports and empowers women who are breast cancer patients or survivors. For every contribution of partner products, 7-Eleven Malaysia will donate 10 cents to the Breast Cancer Foundation Patient Fund, which provides financial assistance to breast cancer patients.
Marketing General Manager of 7-Eleven Malaysia, Ronan Lee said, "We are especially pleased to have #BuatBaikTogether again after its debut in 2017. Through this campaign, we hope to achieve an even better collection this year with the support of the public to bring some cheer to the underprivileged community nationwide. As October is Breast Cancer Awareness Month, we are honoured to be collaborating with Breast Cancer Foundation Malaysia to shine the spotlight and help spread awareness on breast cancer amongst Malaysians."
#BuatBaikTogether is a program under 7-Eleven Malaysia's Community Care, a non-profit entity set up to implement corporate responsibility and philanthropic initiatives in support of underprivileged groups and sustainable environmental conservation efforts.
For more information on #BuatBaikTogether and 7-Eleven Community Care, please visit www.7eleven.com.my or follow 7ElevenMalaysia on Facebook, Instagram and Twitter.