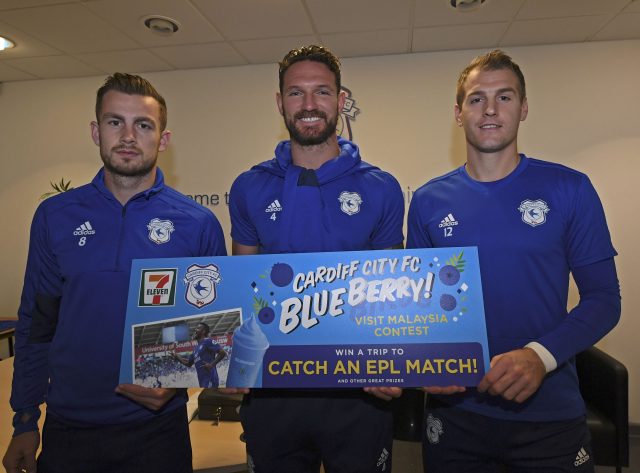 Kuala Lumpur, 16 October 2018 – Are you a fan of The Coolest Drink on Earth™, the evergreen Slurpee? Are you a die-hard football follower? Are you a photography buff? Or, are you just in need for an all paid vacation? If you said yes to any, then it's time to head on to your nearest 7-Eleven outlet and start slurping!
From now until 19th November 2018, to commemorate 7-Eleven's all new Cardiff City FC Blueberry Slurpee flavor, an exciting photo contest called "Cardiff City FC Blueberry Visit Malaysia" is being organized in collaboration with its new Slurpee flavour namesake, our very own EPL team with very Malaysian-roots, Cardiff City FC, with the shirt sponsor of Visit Malaysia. Prizes up for grabs include 2 x Grand prizes which consist of a trip for 2 to United Kingdom to catch the Cardiff City vs Manchester United EPL match on 22nd December 2018. On top of the match day entry, the grand prize also includes flights, trip allowance, accommodation courtesy of the 4-star Radisson Blue and sightseeing activities courtesy of Visit Cardiff. There would also be 10 consolation prizes of official Cardiff City FC jerseys up for grabs!
To stand a chance to win this spectacular trip or the cool jerseys, all one needs to do is purchase 2 of the all new Cardiff City FC Blueberry Slurpee in a single receipt from any 7-Eleven Malaysia outlet, have fun taking a creative picture against any unique Malaysian scenery or iconic sights, collage it with your purchase receipt and upload it on Facebook or Instagram with the hashtags, #Slurpee #CardiffCityFCBlueberry and #7ElevenMY. So, start bringing our bright blue Instagram-worthy Slurpee to visit Malaysia, capturing captivating scenes or sights that makes our country truly one of a kind whilst enjoying its delectable and refreshing blueberry taste.
"Our loyal customers are a priority and the reason we live up to our tagline, Always There For You," said Ronan Lee, General Marketing Manager of 7-Eleven Malaysia. "As an appreciation for their wholehearted support, we aspire to continue offering exciting promotions and campaigns to further enrich the shopping experience of our devoted customers."
He added, "It has always been a pleasant experience to witness firsthand the creativeness of Malaysians, especially in photography contests and we look forward to plenty of captivating entries that capture the uniqueness of Malaysia. We initiated the contest as a challenge for the public to enjoy their favourite frozen beverage, Slurpee in an all new flavour whilst being able to showcase their creativity".
"We are also delighted that Cardiff City FC is our partner for this contest as we all know Malaysians are big fans of the English Premier League and this is a truly one of a kind contest as it promotes "Visit Malaysia" in a creative and fun manner with the lucky winners getting to "Visit Wales" too!" he concluded.
For more information and full contest terms & conditions, please visit www.7eleven.com.my or Facebook at 7ElevenMalaysia.
Football fans looking for ways to support Cardiff City FC can visit https://www.cardiffcityfc.co.uk/malaysia.