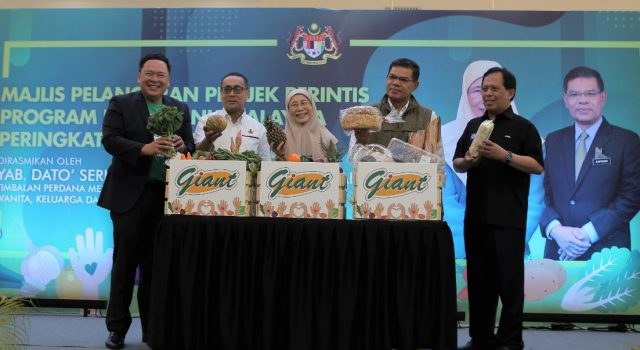 The Country's leading hypermarket brand extends Giant Food Surplus Program to Kelantan.
● Program signifies Giant's commitment to curbing the national concern of food wastage in the country.
KOTA BHARU, KELANTAN, 4 NOVEMBER 2018 – Giant, Malaysia's favourite hypermarket and supermarket brand, in partnership with the Food Aid Foundation, launches the expansion of their Food Surplus Program to Kelantan, officiated by Yang Amat Berhormat Dato' Seri Dr Wan Azizah Dr Wan Ismail Deputy Prime Minister cum Minister of Women, Family and Community Development.
One of the biggest national concerns, food wastage is a challenge for super market and hypermarket operators alike with 45% of all solid waste in the country being edible food waste. Adding to that, it is said that retailers around the country report large amounts of food wastage on an ongoing basis thus increasing the severity of the issue.
Taking place at Giant Superstore Tunjung, the launch of Giant's corporate social responsibility (CSR) commitment to the fight against food wastage will first see Giant stores in Kelantan adopt the brand's current food surplus module. Giant will be supplying goods and produce to the Food Aid Foundation, which will then be distributed to the local underprivileged community, including charity homes, welfare organisations, underprivileged families and soup kitchens in the area. Food Aid Foundation is a non-profit governmental organization (NGO) that acts as a 'Food Bank' where we will donate our unused or 'end of shelf-life' foods, which are then distributed to those in need, and therefore reduce wastage.
"We have always been committed to improving our operations to make a positive impact on this issue. Since 2016, to address this national concern, we have worked hand in hand with non-profit organizations, such as The Lost Food Project, to reduce wastage and create awareness on the issue while supporting the less fortunate. We cannot be any happier to work with the Food Aid Foundation as we bring fight against food wastage to additional states in Malaysia. Together with our partners, we hope to be able to help even more people while further reducing any wastage of food at our facilities," said Pierre-Olivier Deplanck GCH Retail (Malaysia) Sdn Bhd Managing Director.
Officiating the launch, Yang Amat Berhormat Dato' Seri Dr Wan Azizah Dr. Wan Ismail Deputy Prime Minister cum Minister of Women, Family and Community Development, commented, "I would like to commend Giant on their ongoing efforts in solving the issue of food wastage in our country. Giant's Food Surplus program is in line with the government's own commitment and efforts to better assist the underprivileged community in Malaysia as the food items and produce will go to those in need. Through our national Food Bank Malaysia program, we are also aiming to assist the retail industry by reducing the cost of operation for hypermarket and supermarket brands in the country. Both Giant's Food Surplus program and the government's own Food Bank Malaysia program will raise awareness on what each and every one of us can do help to reduce food wastage and benefit the less fortunate."
One of Giant's most recent venture, the launch of their Fresh Distribution Centre, carries the same testament. When products are stored past the point where they are suitable to be sold at stores around the country, they are shared to be re-distributed to those in need. These charities include homes for underprivileged children, soup kitchens for the poor and homeless, as well as those with special needs.
"Food has a shelf life that allows it to be safely consumed beyond the first few days and while we remove healthy, edible produce from our shelves as part of our commitment to selling only quality products; we are also able to now reduce the wastage of these products while addressing the vital concern of food surplus that comes from any large retailer. We believe in creating a sustainable supply chain so that we reduce fresh produce wastage while helping those in need." Said Deplanck.
Also present at the launch of the program was the Minister of Domestic Trade and Consumer Affairs (KPDNHEP), Yang Berhormat Datuk Seri Saifuddin Nasution bin Ismail, who first led the Food Bank initiative in Pulau Pinang since May 2017, through the Mutiara Food Bank. The program's success was a key factor in driving the implementation of the Malaysian Food Bank Program across the country today. The Ministry of Domestic Trade and Consumer Affairs (KPDNHEP), together with the help of key players in the industry such as Giant, and non-profit organizations like the Food Aid Foundation and Kechara Soup Kitchen, aim to assist the underprivilege in the country.