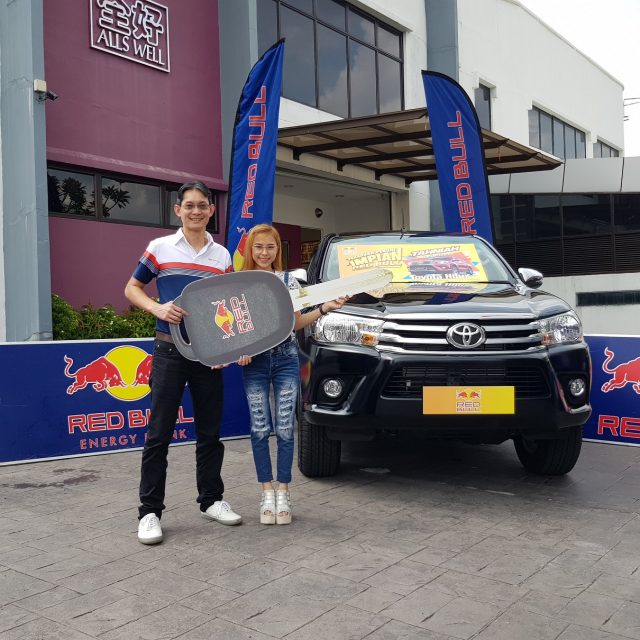 One more Toyota Hilux and up to RM400,000 cash prizes to be won from Red Bull Peraduan Penuhi Impian Contest until 31 Decembr 2018 
Selangor, 9 December 2018 – It turns out to be an extraordinary day for Cik Monyka Sumerah when she was on her daily routine to purchase either a Red Bull Gold or 25% Less Sugar can to kickoff the day. Little did she know that she would become the first winner of Red Bull's Peraduan Penuhi Impian contest to walk home with the coveted grand prize of a Toyota Hilux.
Shocked and skeptical at first, Cik Monyka said she checked through the contest details in the can that she purchased from 99 Speedmart thoroughly, only to be assured and overjoyed when Red Bull contacted her to confirm her win, making this officially the first time in her life to walk away with a grand prize.
Pursuing a diploma in Business Administration and an active contender in sports, Cik Monyka said she consumes Red Bull when needed to provide her with the added energy that will boost and sustain her throughout the day, in order to stay focused. As an avid energy drink consumer, she consumes Red Bull to be productive in the areas of study and sports, but never expected that this routine would made her the first grand prize winner of Red Bull's ongoing Peraduan Penuhi Impian contest.
Since 1 August, Red Bull – the number one energy drink brand in Malaysia, has announced its nationwide Peraduan Penuhi Impian contest as a platform to enable consumers to achieve their daily productivity goals yet stand a chance to win various attractive prizes. For every Gold and 25% Less Sugar can purchased, consumers stand a chance to be winners with prizes worth up to RM600,000 – which includes two pickup trucks, cash prizes and exclusive merchandise.
Jate Samathivathanachai, Country Manager of Red Bull Malaysia shared: "Red Bull's motivation has always been about creating a beverage that could revitalise our bodies and minds especially in moments of increased physical and mental demand. We recognize the hardwork and effort consumers put in to achieve their daily goals especially in work or studies and that is why we want to come in and be the enabler for them to go that extra mile with Red Bull. Echoing their drive, we want to motivate consumers further which is why we came out with the Peraduan Penuhi Impian nationwide contest, to give everyone a chance to be a daily winner either with cash prizes, exlcusive Red Bull merchandise, or even a Toyota Hilux!"
Last Toyota Hilux and Cash Prizes up to RM400,000 up for Grabs!
Currently ongoing till 31 December 2018, the Red Bull Peraduan Penuhi Impian nationwide contest is still looking for one more grand prize winner to drive home a brand new Toyota Hilux, that is found in either the Red Bull Gold or 25% Less Sugar Can.
Apart from that, there will also be cash prizes worth up to RM400,000 up for grabs. Consumers stand a chance to win cash rewards ranging from RM50 to RM500 for every gold and less sugar can purchased! Loyal fans could also win themselves some exclusive Red Bull merchandise through this participation.
How to join?
Step 1: Purchase one Red Bull Gold Can or Red Bull 25% Less Sugar – pull up the tabs to reveal the prize hidden underneath.
Step 2: Send the prize code underneath to Red Bull's hotline at 011-5688-8331 via Whatsapp, and inlcude hashtag of your full name and IC number. (For example: RM50 #yourfullname #youricnumber )
Step 3: Keep the pull tab for prize redemption later on.
For more information on Red Bull's nationwide promotion, visit http://penuhiimpian.redbull.com.my/home to get your hands on these exciting prizes! Remember, start right and charge ahead!
About Allexcel Trading Sdn. Bhd.
Allexcel Trading Sdn. Bhd. ("Allexcel") is the brand representative and exclusive agent for Red Bull® Energy Drink in Malaysia. Allexcel launched Red Bull® in Malaysia in 1993 and the brand is currently the No. 1 energy drink in the country. Red Bull has proven to its consumers its product performance in maintaining alertness, endurance and enhancing performance – stimulating both mind and body. For more information, please visit www.redbull.com.my