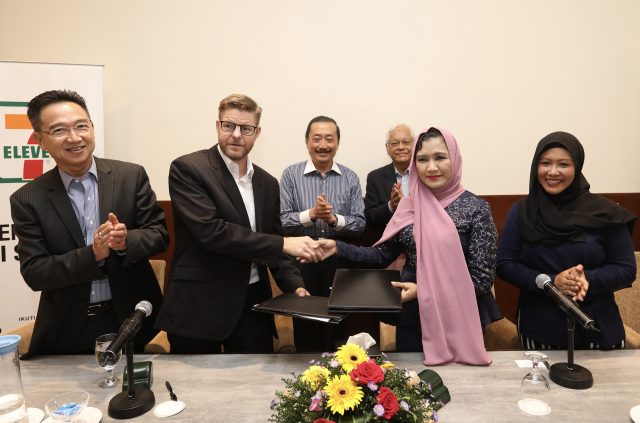 7-Eleven Malaysia Sdn. Bhd., a wholly owned subsidiary of 7-Eleven Malaysia Holdings Berhad and the No.1 standalone convenience store chain in the country has signed a memorandum of agreement (MOA) with Pertubuhan Tindakan Pejuang Wanita Dalam Sosial, Ekonomi, Rumahtangga Dan Ilmu, otherwise known as Tiangseri Malaysia that will enable this non-governmental organization to recruit, provide financial funding and train future franchisees under the 7-Eleven Malaysia network which is in line with the objective of both 7-Eleven and Tiangseri in providing an opportunity to those interested to be an entrepreneur, be self-sufficient as well as creating a sustainable ecosystem that provides more job opportunities to the local community.
In the agreement, Tiangseri Malaysia was commissioned to recruit and recommend up to fifty potential franchisees to 7-Eleven Malaysia in the next 12 months as well as provide various services to the potential franchisees such as assisting to procure the required financing at preferential rates via government agencies such as Perbadanan Usahawan Nasional Berhad (PUNB) and Majlis Amanah Rakyat (MARA) among others.
The MOA was signed by 7-Eleven Malaysia chief executive officer Mr. Colin Harvey and Tiangseri Malaysia president, Dr. Mastura Binti Mohamad at a simple signing agreement in Berjaya Times Square hotel, which was also witnessed by Berjaya Corporation Founder, Tan Sri Vincent Tan.
"Tiangseri Malaysia is delighted to announce this strategic collaboration with 7-Eleven Malaysia and we look forward to developing the franchise program further under such a world-renowned brand which is also the world's largest convenience store chain brand", said Dr. Mastura binti Mohamad, President, Tiangseri Malaysia.
She added, "Providing opportunities for our community to be more self-sufficient are a major focus for us and we strongly believe that the general public have an incredible interest in learning to manage their own business but are worried about the many risks and challenges if one is to attempt on their own therefore that is why this franchise program is the best whereby one can learn the ropes gradually and all the while under the guidance and tutelage of both parties. 7-Eleven Malaysia is our ideal partner where we are able to fulfill our philanthropic objectives while 7-Eleven Malaysia has unrivalled experience and retail know-how and we look forward to a long and fruitful partnership."
"The franchise program expansion through Tiangseri Malaysia will see both partners leverage on each other's unique strengths and experience, as well as their respective expertise in both retail and grassroots franchise recruitment," said Mr. Colin Harvey, CEO of 7-Eleven Malaysia.
He added, "We are fully focused on this collaboration as we believe franchising are an integral part of our long-term corporate strategy of giving back to the local community that we operate in, as it will both provide and create important life and management skills in future entrepreneurs as well as providing more job opportunities to our local workforce."
"We are extremely pleased that we have managed to conclude this arrangement with Tiangseri Malaysia that will see both organizations collaborating and providing more opportunities to aspiring local beneficiaries and we hope that more will take this opportunity to be your own management as Tiangseri would be more than happy to share success stories of those that are already franchisees under the 7-Eleven brand in Malaysia," he concluded.
7-Eleven Malaysia is the largest stand-alone convenience store-chain nationwide, with more than 2250 outlets across the country and continuously aspires to elevate customers' shopping experiences and to scale greater heights as the largest stand-alone convenience store operator in Malaysia. To meet today's expectations in providing convenience to customers; 7-Eleven Malaysia opts to stay close to its customer's heart by staying true to its motto, Always There for You.