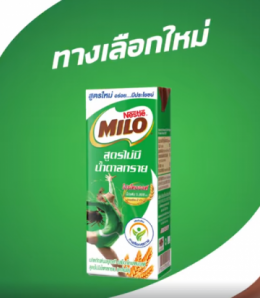 sNestle continues to trim the sugar content of its Milo chocolate and malt powder. This time, Nestle (Thai) Ltd has rolled out Milo UHT no sucrose ready-to-drink (RTD) product. The drink has no sucrose but with the tasty and nutritious energy from milk and malt.
The Milo UHT no sucrose is certified as a Healthier Choice drink. The 180ml drink is available at 7-Eleven at a price of THB 13 and from June 2019, it will be available at convenience stores, supermarkets and hypermarkets.
Nestle Singapore (Pte) Ltd, meanwhile, has rolled out Milo Chocolate Malted Milk with 50% Less Sugar. The total sugar per 100ml is 5.9g, of which added sugar is only 3.1g, which is 50% less than a pack of regular Milo UHT.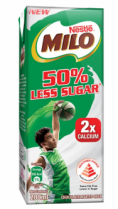 In Malaysia and Indonesia, Milo has launched a 25% less sugar chocolate malt powder in 2018. In Singapore, the brand introduced Milo Gao Kosong, the world's first Milo powder with no added table sugar in 2017.