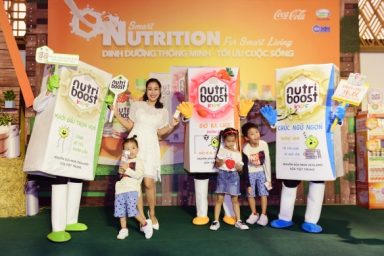 Hanoi, April 16th, 2019 – Coca-Cola Vietnam Beverages Ltd. (Coca-Cola Vietnam) has unveiled new smart nutrition solutions featuring three brand new Nutriboost UHT milk products featuring Fonterra's New Zealand dairy, as the company's latest continued efforts in tapping into the consumers' rising and diversified demands for nutrient-rich products in the modern life. The new Nutriboost UHT milk range introduced in Vietnam are available in three varieties:
·         Nutriboost KIDS – Morning Growth (Khởi đầu trọn vẹn), Playtime (Giờ ra chơi), Good Night (Chúc ngủ ngon): providing children from 03 years old with optimal nutrients matching demands at three different periods of the day.
· Nutriboost TO-GO – Platform – Stamina: adding oats and natural fiber, being designed to offer the body boundless energy.
·         Nutriboost BEAUTY – Fresh and Youthful Look: science-based formula skim milk, well-balanced and fortified with nutrients such as Collagen, Zinc, which have long been associated with body fitness.
These three newly-launched milk products today mark the first project under the strategic alliance between Coca-Cola and Fonterra in the Southest Asia region, which aims to provide Vietnamese consumers with science-based formula, nutrient-rich milk products which are sourced from New Zealand and cater to the diversified nutritional demands of various consumer groups. The launch also re-affirms Coca-Cola's commitment on becoming a total beverage company, by which the company can offer innovative products with proven sustainable health benefits to consumers.
The original milk-and-juice drink Nutriboost, launched since 2010, has been Coca-Cola's breakthrough to Value-Added-Dairy product category. The product provides essential nutrients needed by young millennials to fuel their energy for busy daily routine. Taking from the success of Nutriboost, Coca-Cola has expanded its product range with the three nutrient-rich UHT milk, including Nutriboost KIDS, Nutriboost TO-GO and Nutriboost BEAUTY, elevating Nutriboost as the brand for smart nutrition solutions from milk products. The expansion also taps into the rising consumer demand for diversified nutritional products.
The philosophy underlying Nutriboost's new milk product development includes: Right Nutrition – Right Occasion – Right Method. Made from 90%-95% certified New Zealand milk, the powerful combination of science-based formula, natural nutrients with pleasantly delicious flavors has offered consumers smart nutrition solutions, which help them experience a fully optimized life and be free from the intense pressures of modern life.
Steve Bonz, General Manager of Strategic Allience, said: "More than ever before, Vietnamese families and active millennials are consciously seeking smart nutrition solutions for long-term health foundation which helps them pursue greater goals energetically in a fast-moving and challenging life. Consumer demands are different among various groups: While children need mental and physical development, women wish for health benefits and beauty, and busy millennials look for the boundless energy in their everyday life. Dairy products therefore should be customized to optimize the benefits brought by nutrient-rich milk source to best suit each customer's particular needs. Nutriboost UHT milk products cater to this and is expected to be a smart and reliable companion who best understands such essential needs of consumers."
The three Nutriboost UHT milk variants, in addition to the existing milk-and-juice range, will be available in supermarkets and convenience stores nationalwide as of April, 2019.
· The three Nutriboost KIDS milk products to be available as of April 15, in 110ml cartons and at VND 5,500 per unit.
· Nutriboost TO-GO and Nutriboost BEAUTY 220ml to be available as of May at VND 15,000 per unit.
· The 298ml milk-and-juice Nutriboost is still at VND 10,000 per unit.