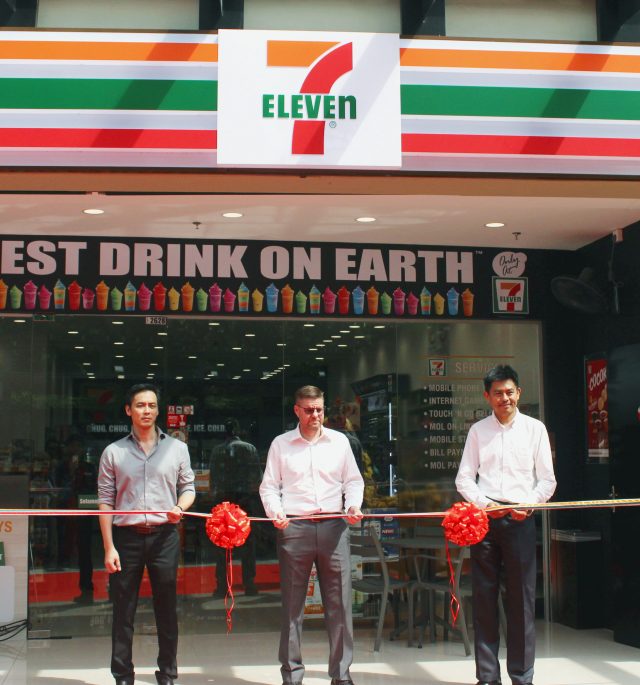 Kuala Lumpur, 8th May 2019 – 7-Eleven Malaysia, a wholly owned subsidiary of 7-Eleven Malaysia Holdings Berhad and the largest convenience chain store in Malaysia launched its 2323rd store at a launch ceremony held at Plaza Arkadia, Desa ParkCity. This milestone number reflects the unrivalled reach 7-Eleven has in the Malaysian retail scene and its latest store reflects its contemporary concept store format, which has been gradually rolled-out nationwide over the past few years.
Speaking at the ceremony, Colin Harvey, CEO of 7-Eleven Malaysia Sdn. Bhd. commented, "We are truly ecstatic at our latest milestone, which in less than 18 years, under the astute vision and guidance of Tan Sri' Vincent Tan, has grown from a mere 176 stores to become the undisputed retailer with the most number of retail outlets in Malaysia. We are very pleased to have to have reached this milestone but it'll be business as usual as we have no intention of stopping here and will continue with our rapid store expansion. We are also pleased to be able to showcase here today our latest product and service innovations which sets us apart from other convenience stores in Malaysia with a strong emphasis on best in class fresh food."
At the ceremony, a brief tour was given on key highlights of the stores. The current generation of 7-Eleven stores encourages customers to see 7-Eleven as a lifestyle store, where they can enjoy the range of products on offer at the store in a relaxed manner, akin to what one would experience at a neighborhood café. At the store in Plaza Arkadia, its full food service offers a wider array of fresh food and beverages under the brand name of 7-Eleven which include designer sandwiches, Cocoks™ – the brand's ever-popular skewered snacks that now can be purchased with 4 different sauces, grilled sausages and newly re-packaged bakery range.
Customers with sweet cravings can also opt to try 7-Eleven's fresh donuts, Swiss rolls, a variety of cake slices and its exclusive soft serve series, aptly named Aiskleem™. Moreover, its extensive beverage selections including among others the world-famous Slurpee® in fun and exciting new flavours like ManGoda, a playfully-termed Mango Passion Fruit flavour. 7-Eleven Malaysia has also increased its range of in-store services to customers with a wider selection of utility providers of its 24/7 bill payment service, major e-commerce offline payment option as well as being able to pay for your PTPTN loan. E-wallets such as Razer Pay and Alipay are also now accepted with more to come on board and fans of Google Play, Sony Playstation, Spotify, Netflix and more can also conveniently purchase prepaid cards either for their own use or as a gift to family and friends.
Mr. Harvey continued, "It is important to us to continue to innovate on not only our product offering, but to also play more of a role in the daily lives of our customers. By offering these services, we can offer a whole new level of convenience in Malaysia and we continue to be the leader for the convenience sector. We are enthusiastic about the future and will continue to deliver the best possible product, services and promotional offerings at our stores based on what our consumers want."
7-Eleven Malaysia is the largest stand-alone convenience store-chain nationwide, with now 2,323 outlets across the country and continuously aspires to elevate customers' shopping experiences and to scale greater heights as the largest stand-alone convenience store operator in Malaysia. To meet today's expectations in providing convenience to customers; 7-Eleven Malaysia opts to stay close to its customer's heart by staying true to its motto, Always There for You.