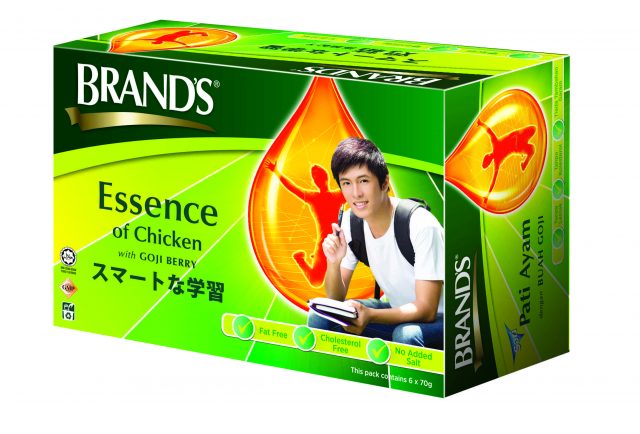 16 August 2019 – "You are what you eat" is a commonly used phrase as the food one eats has a bearing on one's state of mental, emotional and physical health. Students especially need to juggle many academic and extracurricular activities, and they need to eat the right nutritious food to perform well in school.
Getting the fundamentals of human nutrition right can ensure that you have the mental focus and concentration for improved productivity, better memory and gives your body the energy to carry you through the day's activities.
It is common for students especially, to pull all-nighters when studying, often without taking sufficient breaks in between. While this may seem like a reasonable sacrifice to score good grades, students may end up regretting it later on when they start to notice having fatigued eyes can disrupt their focus to study.
Therefore, BRAND'S Suntory Malaysia – one of the leading health and wellness companies in Malaysia has introduced a specially formulated BRAND'S Essence of Chicken with Goji Berry that helps students especially during the exam period to nourish their eyes, improve concentration and boost the immune system.
Speaking to parents and students at the BRAND'S® SMART Achievers Award prize-giving ceremony, Dr. Mandy Yee, a Senior Scientist at BRAND'S® Suntory Asia shared the nutritional goodness of BRAND'S® Essence of Chicken with Goji Berry and introduces the benefits of the product, during the event day.
"Good nutrition and a balanceddiet helps students to achieve their optimum study performance. Drinking BRAND'S® Essence of Chicken with Goji Berry daily helps students to reach their peak study capability." said Dr. Yee.
"BRAND'S® Essence of Chicken with Goji Berry is a natural food supplement with no added salt and is cholesterol and fat free that enhances reading ability, reduces eye tiredness while helping students to stay sharp and concentrate better during classes and revisions to help them achieve their optimal study performance," added Dr. Yee.
Corroborating the findings are at least 20 students, who excelled at their final examinations last year and were handpicked to receive the annual BRAND'S® SMART Achievers Award.
Ranging from secondary to tertiary level education, they were selected from hundreds of entries to emerge as the best of the best to receive the much-coveted recognition that only recognizes top students who excelled in both their academic and extra-curricular performance.
Travelling from as far as Sarawak, Johor, Kelantan, Penang, Melaka and Perak, the proud students and even prouder parents attended the special awards ceremony held in their honour where they received cash, product hampers and a certificate as part of their rewards.
The BRAND'S® SMART Achievers Award that aims to encourage and enable the young generation to achieve their full potential has 4 categories with respective cash prize awards – PT3 (RM500), SPM (RM1,000), STPM (RM1,500) and university/college exams (RM2,000).
"BRAND'S® has been awarding top performing students since its inception in 2006. The BRAND'S SMART Achievers Award is to honour students for their academic results and outstanding performance in their co-curricular activities. This year, we are honoured that 20 accomplished students have gained entry into this prestigious club," said Gillian Loh, Head of Marketing of BRAND'S® Suntory Malaysia.
BRAND'S® Essence Of Chicken is the only chicken essence in the market backed by over 50 international scientific papers and clinical studies. Results have shown that regular consumption improves memory by up to 15% and enhances concentration by 22%, while metabolism can be increased by up to 16%.
Scientist Profile
Dr. Mandy Yee is a Senior Scientist at BRAND'S Suntory Asia since 2015. She has been involved in collaborative scientific research on BRAND'S® products, development of new products and scientific communication. Mandy received her Ph.D in Science from the Saitama University in Japan. She studied Molecular Biology and Biochemistry, and had worked on Academic Research at the University of Tokyo for 4 years before joining the company.
Over 3 years with the company, she has developed a nutrition-based product for kids in developing country. She also manages collaborative research with research institutes and Suntory Global Innovation Center in Japan that focuses on blood glucose management. She is also supporting the content development of BRAND'S Health Enrichment Centre, which provides scientific evidence to support healthcare professionals and consumers in the enrichment of their health and wellbeing.