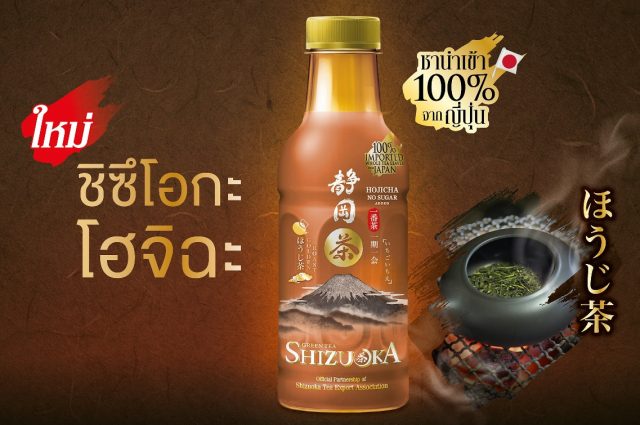 Thailand's Ichitan Group PLC has recently aired commercials that strengthened the Japanese heritage of its Shizuoka premium RTD tea range in the minds of Thai consumers.
Launched in 2018, Shizuoka RTD tea is a product developed between Ichitan and the Shizuoka prefecture in Japan, also known as the Japanese tea capital. This RTD tea taps into the healthy drinking trend in Thailand.
Shizuoka RTD tea is a success story
Shizuoka RTD tea has been a success for Ichitan. Sales of Shizuoka RTD tea jumped 286.2% year to date June 2019 to reach THB 206 million, according to the Ichitan Opportunity Day Quarter 2/2019 citing Nielsen Retail Audit.
Within RTD tea, Shizuoka RTD has been instrumental to the strong growth of the premium tea segment (+33.4% YTD June 2019) in Thailand. As a comparison, the overall RTD tea market only grew by 5.5%. Premium tea still accounts for a small share of the market at 10.5% but this was up from 8.3%.
Positioning Shizuoka RTD tea
The tea leaves used in the Shizuoka RTD tea comes from a tea plantation with over 400 years of history and was first established by Somon Ohashi in 1600. The Kawane Tea Plantation is now managed by the 13rd generation.
Ichitan has in the past created commercials that described the high quality of the tea from Shizuoka. These commercials also depicted Japanese tea masters carefully selecting the finest tea to produce Shizuoka RTD tea. Such an approach is commonly being used by brands to describe the provenance of their products.
Home-made video improves authenticity
In a departure from the norm, this time Ichitan recruited the tea farmers from Shizhuoka to produce their own "home-made" videos with an objective of attracting the interest of Thai consumers to their tea. The videos were carefully shot to include images of the tea plantation and Mount Fuji serving as the backdrop.
Such a creative approach of using locals to make their own promotional videos that are not just plain funny but also 'real' serves as an alternative approach that marketers can use to craft the authentic message for their brands.