Frisian Flag Indonesia, in collaboration with the Food and Nutrition Society of Indonesia (Pergizi Pangan Indonesia), has introduced an entry level milk powder for the entire family to address nutrient deficiency especially among children.
Based on the 2018 Basic Health Research (Riskesdas), the prevalence of malnutrition in Indonesia stood at 17.7%. Anemia also affects 48.9% of pregnant women.
Known as Frisian Flag Kompleta, the milk power contains vitamin A, vitamin B12, folic acid, vitamin D, iron, zinc, magnesium and 10 other vital vitamins and minerals. Frisian Flag Kompleta is available in plain, vanilla and chocolate flavours.
The company sells Frisian Flag Kompleta at a lower price to make it affordable to the masses. Before discount, Frisian Flag Kompleta (800g) is priced at IDR 70,700 on Blibli.com, which is 8.6% cheaper than the existing Frisian Flag Purefarm Instant (800g).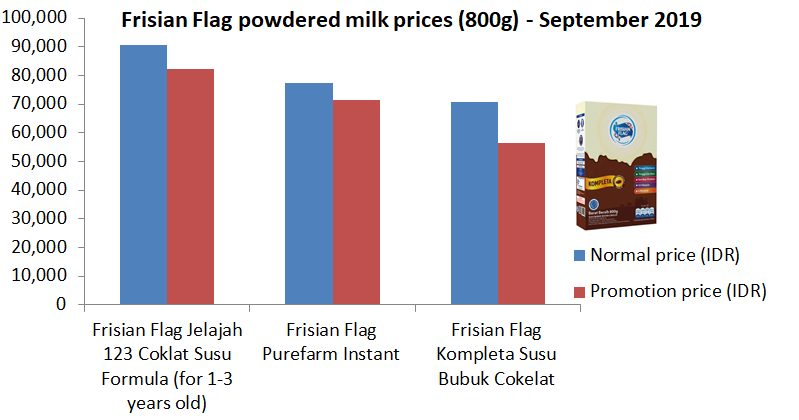 Frisian Flag Kompleta is replacing the existing Frisian Flag milk powder with a lower sugar formula and more information on the pack, according to the company.
For children, Frisian Flag has previously launched Susu Bendera in May 2019. This affordable milk powder range in honey flavour is available in two variants – 1+ (1-3 years old) and 3+ (3-5 years old). The packaging sizes are 150g, 360g and 600g.

Susu Bendera contains 13 vitamins and 8 minerals including calcium, vitamin C, vitamin D, zinc, protein and iron. The children's milk powder is formulated with Omega 3 and Omega 6 offering 69mg of Omega 3 and 461mg of Omega 6 per 30g serving.
Similar to Frisian Flag Kompleta, Susu Bendera is positioned to carry a price that is affordable to consumers.

Frisian Flag's mass market approach ensures it has products suitable for the bulk of the society, while supporting the Indonesian government in its endeavour to improve the nutrition for all Indonesians.