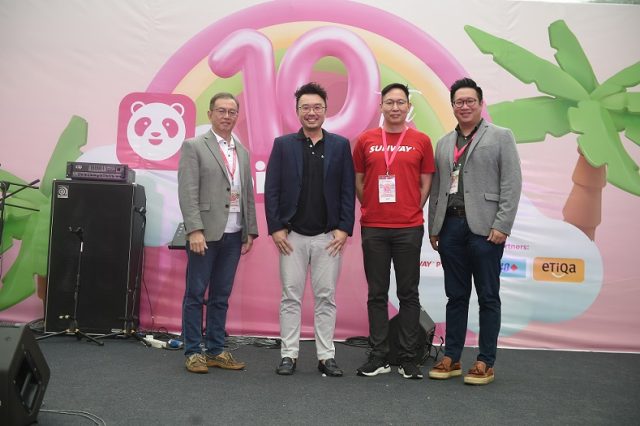 Ten-Aciously Delivering Joy To Malaysians All Over
Malaysia, August 12, 2022 – foodpanda Malaysia celebrates yet another milestone! Ten years of operating in the Malaysian market and delivering joy to Malaysians nationwide, be it your favourite meals, groceries and even your pharmaceutical or retail needs.
Commenting on this milestone, Sayantan Das, Managing Director of foodpanda Malaysia said, "We are proud to share that we are a platform by Malaysians for Malaysians and are extremely grateful to be celebrating our 10th anniversary. This incredible milestone would not be possible without the unwavering support of our customers, delivery partners and vendors."
He added, "There is no denying that our industry has progressed in so many ways over the last 10 years and will continue to do so as we move forward. Over the years, we have built on our tech to create a powerful tool that provides an inclusive platform for our community of riders, merchants and customers to thrive. We have and will continue playing a key role in disrupting the q-commerce space, pushing boundaries by strengthening traditional business and working toward upskilling delivery partners. I remain optimistic of the many opportunities and challenges that are yet to come and look forward to the next 10 years."
To celebrate this joyous occasion, foodpanda Malaysia hosted an appreciation dinner at the foodpanda HQ for all their partners to thank them for their continuous support over the years. Additionally, foodpanda Malaysia will be hosting panda paradise, a carnival from Friday, 12 August 2022 to Sunday, 14 August 2022 at Open Air Carpark Sunway City, which is opposite Sunway Resort for Malaysians to be able to experience foodpanda beyond the app.
It may be foodpanda's birthday, but it's your party! Panda paradise is your escape from reality. From exploring all sorts of TEN-talising food to unleashing your playful side with on-ground games or just to chill with friends and family, we have you covered! For 3 days only, everyone is invited.
Don't miss out on participating in the pandamart Sweep Game that requires participants to listen to a rap song to identify a list of items before rushing through the pandamart booth to retrieve the items in a set time. Besides that, visitors can also look forward to the Count The Items challenge and a Treasure Hunt to win exciting prizes such as iPad Air, Samsung Soundbar, and up to RM500 worth of pandamart vouchers, among many others.
If this isn't exciting enough, visitors will also be able to witness an exciting line-up of local performances as well as scrumptious delights from vendors such as Wall's Ice Cream, ZUS Coffee, Wowffle, Pastryville, Soul Brew, Texas Chicken, Pizza Hut, Chatime, US Pizza, J Co Donuts, Boat Noodles and more. Aside from that, a list of other participating partners include RHB Bank, ETIQA and Sunway Pyramid.
To visit panda paradise, all visitors are required to be a pandapro subscriber and use code PANDA10 to get 20% off all items at the carnival. To purchase items at the carnival, visitors will need to click on the Pick-Up option via the foodpanda app.
panda paradise will be open to all from 5.30pm to 11pm on Friday, 12 August 2022, and from 3pm to 11pm on both Saturday, 13 August 2022 and Sunday, 14 August 2022