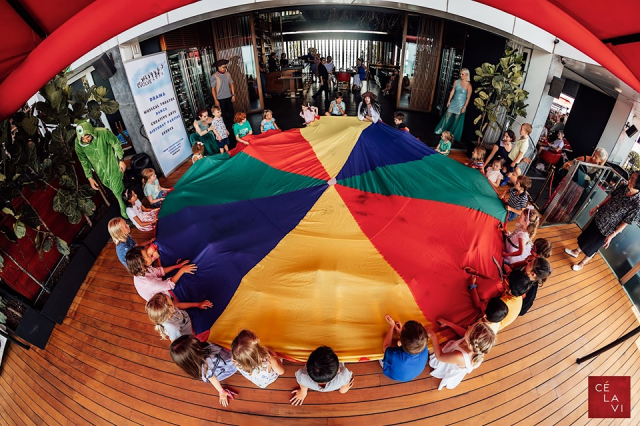 Singapore 27 September 2019 – Singapore's iconic Restaurant and SkyBar CÉ LA VI presents its newest event: Sky High Circus, a whimsical themed brunch series in collaboration with Evolve Arts to offer families with an entertaining and memorable experience. Sky High Circus was launched on Sunday, 8 September 2019, with its next edition on Sunday, 13 October 2019 from 12 – 3 pm and the final edition for the year on Sunday, 10 November 2019. Sky High Circus is the perfect way to spend a Sunday afternoon with loved ones as families can delight in themed performances and games while enjoying the breathtaking views of the Singapore Strait and Bay with exceptional cuisine and drinks. For this edition of Sky High Circus, children will be taken through an exciting Superheroes themed journey led by a talented group from Evolve Arts.
Based in Singapore, Evolve Arts is an entertainment group who is known for its expertise in producing unique parties for kids, offering the little ones a fun and educational experience through their drama and entertainment. The group also provides classes for kids such as theatre, arts, and music.
The rooftop party isn't complete without an extensive array of contemporary Asian dishes curated by Group Executive Chef Joey Sergentakis. With a changing menu for each event, guests can enjoy a vast brunch spread showcasing Chef Joey's flair for innovative cuisine made to appeal to parents and kids alike. For adults attending the October event, highlights include the Crispy Prawn Tempura Roll served with puffed Japanese rice, wasabi aioli, and bonito flakes and Pan-Seared Snapper with green mango, kalamansi and a refreshing lemongrass salad. For a sweet finish, enjoy the Mango Cheesecake complete with yogurt sorbet, caramelized almonds, and pistachio crumble. Kids can choose from the juicy Beef Burger Sliders, French Fries, andfinish their mealwith mouth-watering dessert Whipped Chocolate Pudding.
Set against the picturesque view at the top, this spectacular brunch is filled with groovy and alluring beats, making it an excellent source of fun.
Brunch is available at S$98++ for adults, while kids can dine for free with an Entertainment charge of S$30++. With the inaugural event sold out, reservations are recommended and can be made at +65 6508 2188 or via email at [email protected].
CÉ LA VI Sky High Circus Event Details
Date: Sunday, 13 October 2019
Time: 12 noon to 3 pm
Ticket prices: $98++ for adult / $30++ for children (entertainment charge)
Reservation: Call +65 6508 2188 or email at [email protected]