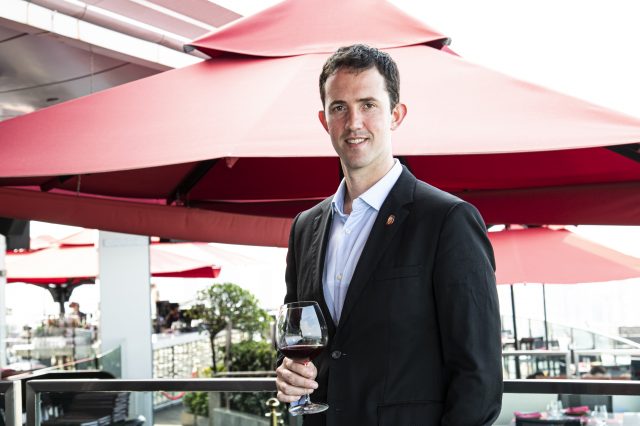 Singapore, 8 October 2019 – CÉ LA VI Singapore welcomes Benjamin Hasko as the Group Head Sommelier, where he will be bringing over a decade worth of oenological experience to the dynamic rooftop destination.
Originating from Australia, Ben completed the prestigious Master Sommelier examinations in London in October 2016, becoming one of four Master Sommeliers from Australia and the 236th in the world to hold this exclusive title – an accolade that is currently held by less than 270 people globally.
Not only is Ben one of the six in 2016 to receive this highly regarded designation, but he also managed to successfully complete the examination on the first attempt, which saw him receiving the inaugural Dom Ruinart Cup to commemorate this momentous achievement.
Ben has learned the virtues of the trade through his vast experience working across various aspects of the wine industry in Australia. He began his career as a sommelier at Rockpool on George in Sydney and was most recently the Director of Luxury Beverage Group, where he handled Bootleggers Wine & Spirits and Cru World Wine, who were under the portfolio. Ben developed and managed the portfolio of around 60 producers from nine countries. Beyond this, Ben was committed to building the opportunities for wine education in Australia, with his passions rooted in supporting and developing the wine list and beverage programmes for the community.
Ben moved to Singapore in 2019 to be appointed the Group Head Sommelier at CÉ LA VI, where he will be bringing his exquisite palate and passions for wines to further complement and elevate the service and offerings. Combining his knowledge and flair for exploring the world of wines, Ben is ready to share his expertise and stories with the guests of CÉ LA VI.
About CÉ LA VI Singapore
CÉ LA VI is our interpretation of the popular French saying "This is Life". CÉ LA VI was born in Southeast Asia, inspired by the region's creative legacy. CÉ LA VI's DNA is deeply rooted in the artistic influences of the region's art, carvings, paintings and temples. Our mission is simple: the pursuit of pleasure, passion and play in an inspiring and spectacular setting because "This is the Life". We deliver luxury lifestyle, dining and entertainment brand through exceptional guest services, iconic locations with stunning vistas and a journey of the five senses.