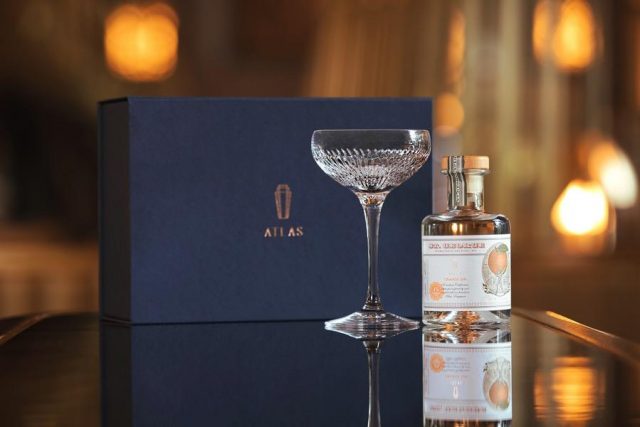 Singapore, 14 October 2019 – As the festive season approaches, ATLAS is excited to announce the launch of the ATLAS Gift Box sets. Perfect for those seeking unique gifts for friends, family or corporate gifting; these sets are ideal for gin lovers and those who enjoy indulging in the art of fine drinking.
Presented in a beautiful ATLAS gift box, the sets come in the following three options:
One stunning crystal Waterford Coupe engraved with the ATLAS logo, and a 200ml bottle of St. George ATLAS Orange Gin (S$158)
Two 200ml bottles of St. George ATLAS Orange Gin (S$118)
One pair of ATLAS' exclusive Art Deco crystal Waterford Coupe glasses (S$188)
The St. George ATLAS Orange Gin is an exclusive collaboration between ATLAS and St. George's Spirits, an artisanal distillery located in Alameda, California. A celebration of Seville and Bergamot oranges and Valencia Orange Blossom, this contemporary iteration of an orange gin is citrus-forward, with a burst of sweet blossom and prominent savoury botanicals. Available exclusively at ATLAS, the gin is a revival of a truly classic style of gin and represents craft gin distilling, seasonal produce and gin history inspiration.
Each of the gift box options also contains a recipe card for the ATLAS Orange Blossom cocktail developed exclusively by Head Bartender, Jesse Vida, so that an ATLAS classic can be easily recreated at home.
The ATLAS Art Deco Waterford Martini Glasses features a unique crystal cut, with an elegant thin stem and intricate design. This radiant glassware ensures that the contents are beautifully showcased, making it a feast for the eyes.
The gift sets are available for purchase while stocks last either directly from ATLAS during operational hours, or via [email protected].
Additionally, the St. George ATLAS Orange Gincan be purchased separately at S$48 for a 200ml bottle, or S$148 for a 700ml bottle.