Nestle Malaysia has given us a teaser on the new Maggi with cheese in the last few weeks.
Lo and behold, the new product is called Maggi PAZZTA. The new line of halal-certified quick cook pasta is available in Cheese Macaroni (70g) and Mushroom Penne (64g).
Nestle introduced Maggi PAZZTA from India into Malaysia. In India, apart from Cheese Macaroni and Mushroom Penne, this instant pasta range has two more flavours – Cheesy Tomato Twist and Masala Penne.
Click here to purchase Cheese Macaroni (70g) and Mushroom Penne (64g) from the Nestle Malaysia flagship store on Lazada Mall for RM 3.29 each.
Nestle's entry into the instant pasta segment in Malaysia is a wise move as there is a gap for such product in the local market. In fact, quite a number of Malaysian sellers are already selling imported instant pasta online that they sourced from neighbouring countries. Recently, Knorr has introduced their cup pasta at 7-Eleven Malaysia outlets.
Instant pasta products are no stranger to other markets in Southeast Asia. Below are some of the instant pasta products that are available in the region.
In Singapore, Nestle Maggi has the imported 5-Minute Cup Pasta.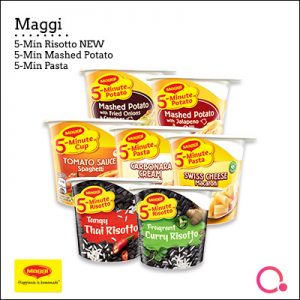 In Thailand, Unilever's Knorr introduced the new Cup Pasta in Carbonara, White Cream Alfredo and Tomato Pomodoro in both cup and pack formats in 2019.

In the Philippines, Monde Nissin's Lucky Me! released its instant pasta in pack in early 2019. Lucky Me! Pasta is available in Baked Mac and Mac & Cheese.