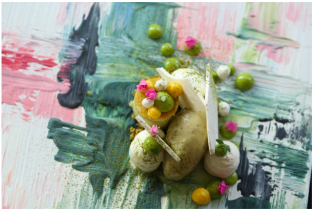 November 6, 2019, Singapore – 2am:dessertbar, which is helmed by award-winning pastry chef Janice Wong, is celebrating its twelfth anniversary this year. To commemorate, the venue has launched an anniversary menu which is available exclusively until 15 December 2019.
The menu is a showcase of Janice's journey focussing on the creativity of food and art and invites guests to enjoy from a special 12-item a la carte menu. Each item is a tribute to the various iconic desserts that Janice Wong and her team have explored and created at 2am:dessertbar over the past 12 years.
The dessert bar's all-time signature Cacao Forest ($24) is a seasonal dessert, with four versions reflecting the four seasons. This season's Cacao Forest is made with Dulcey Chocolate Mousse, Passion Fruit Chocolate, Banana Ice Cream and Mango Lime Lychee Consomme. Other contemporary favourites in the a la carte menu include Cassis Plum ($24) made with Cassis Bomb, Elderflower Yoghurt Foam, Choya Granita, Yuzu Pearls and Yuzu Rubies, Chocolate H20 ($22) made with 65% Dark Chocolate, Salted Caramel and Kochi Yuzu Sorbet, and Shades of Green ($19) made with Pistachio Sponge, Coco Mousse and Pandan Ice Cream.
Items from past menus are also making a comeback in this special celebratory month. Featuring Shades of Purple ($20) made with Blackcurrant Parfait, Purple Potato Puree, Lavender Marshmallow and Cassis Leather, Chilli Chocolate ($22) with Chocolate Soil, Honey and Sea Salt Caramel Ice Cream and Twix ($21) made with Burnt Caramel Bavarois, 85% Dark Chocolate Sorbet, Peanut Crumble, Salted Caramel and Chocolate Chips, these decadent contemporary desserts are a major throwback for long-time patrons of 2am:dessertbar. Together with the recent addition of the 5 Tastes Chocolate ($24), these contemporary desserts will make guests spoiled for choice.
For those who prefer more classic desserts, the special a la carte menu also includes Green Tea Tart ($20) with Jasmine Rice Sherbet and Yuzu Kalamansi Gel, Chocolate Tart ($17) with Blood Orange Sorbet and Salted Caramel, Tiramisu ($17) with Kahlua Jelly and Espresso Ice Cream and Chocolate Praline Poprocks Cake ($19).
All the a la carte desserts come with optional recommended pairings at an additional cost. Other anniversary specials are also included in the menu, including choices of ice cream and savoury dishes.
About Janice Wong:
Chef Janice Wong's never-ending passion for culinary art has propelled her forward to test the limits of dessert making. The native Singaporean has learned from some of the world's best chefs, including US luminaries Thomas Keller and Grant Achatz, virtuoso Spanish chocolatier Oriol Balaguer, and prodigious French pastry chef Pierre Hermé. An undisputed favourite among sweet-toothed Singaporeans, her dessert restaurant 2am:dessertbar has recently celebrated their twelfth year anniversary, redefining the dessert experience and pushing the boundaries between sweet and savoury with carefully researched progressive dishes.
In November 2014 she launched her eponymous sweet concept, JANICE WONG, and recently launched her new concession stand at the world-renowned Harrods department store in London in 2018. Chef Janice has received worldwide recognition for her cutting-edge creations, expanding globally to include an outlet in Tokyo, and is a regular on the global pop-up circuit. Notable global collaborations include Janice Wong MGM in Macau, a sweets shop where customers can observe a live dessert station with the world's biggest chocolate fountain, and Janice Wong's first solo exhibition in Huis Ten Bosch Nagasaki featuring her signature edible art works. She has been named Asia's Best Pastry Chef; for the second year running by the prestigious San Pellegrino Asia's 50 Best for 2013 & 2014. Janice Wong also won the title of Pastry Chef of the Year from the World Gourmet Summit Awards in 2011, 2013 and 2015, including the title of Young Woman of the Year from Her World in 2012.