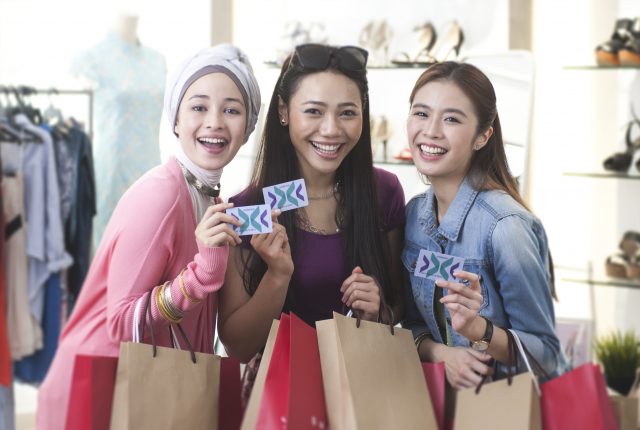 Covering Giant, Cold Storage, Mercato and Jasons Food Hall
19th April 2018, Kuala Lumpur – Today, GCH Retail (Malaysia) Sdn Bhd (GCH) which operates Giant, Cold Storage, Mercato and Jasons Food Hall, Shieldcard Holdings Sdn Bhd (Shieldcard) and AIG Insurance Malaysia Berhad (AIG) announced a strategic partnership to extend a customised Personal Accident (PA) benefit exclusively for loyal GCH customers.
In an effort to continuously look for ways to improve the experience of their customers, today GCH is extending its partnership with Shieldcard (the owner and operator of the "AXXESS" programme) that gives customers valuable, simple protection when shopping at any GCH retail outlets. "The GCH customer base comprises mainly of family members, hence the protection of loved ones is important. We want to support our customers and their families and ensure they are adequately protected for unseen circumstances" said Pierre-Olivier Deplanck, CEO of GCH Retail (Malaysia) Sdn Bhd. "Working closely with Shieldcard, we have enhanced the AXXESS programme exclusively for GCH customers, to offer up to RM 40,000 in protection benefits. Our goal is to make a meaningful difference in improving the lives of our customers" states Deplanck.
Deplanck further added that the protection benefits are worldwide and provide 24/7 protection for Hospitalization with Daily Income of RM50 per day, for up to 30 days per insured incident. RM20,000 will be given to the next of kin in the event of an unfortunate incident, in addition to monthly grocery vouchers worth RM18,000 in total.
In making sure that this added benefit reaches out to as many customers as possible, anyone who spends a minimum of RM30 from 16 April to 15 May, will get a FREE AXXESS card and be immediately eligible for the Personal Accident  Benefit until 31 May 2018. Customers are encouraged to register their AXXESS card during the above campaign period, to enjoy the said complimentary PA for the first month. Subsequent to the FREE period, members would need to spend a minimum of RM200 per month at any GCH outlets to maintain the same PA benefit.
"AXXESSpoints can be earned at participating merchants nationwide, to redeem private medical benefits and help reduce or pay in full, members' annual motor insurance premiums," said Tunku Naquiyuddin Ibni Tuanku Ja'afar, Executive Chairman of Shieldcard. The programme is structured in a way where members can earn AXXESSpoints through many different touchpoints, leveraging on their daily spending needs, he added.
To date, AXXESS has partnered with key merchants across diverse consumer retail channels, including petroleum, hypermarkets, retail, entertainment, food & beverage, themed attraction, health & wellness and many more. In the coming months, AXXESS will be adding approximately 50 more merchants so that its members can speed up the AXXESSpoints earning to reach the required minimum threshold to be eligible for the private medical benefit.
The customized Personal Accident Benefit (PA) is underwritten by AIG, a leading general insurer in Malaysia. The AXXESS' business model provides joint growth opportunities for their partners as well as the insurance industry, to the benefit of public in general.
For more information, log on to www.axxess.com.my.
About GCH Retail (Malaysia) Sdn Bhd
GCH Retail (Malaysia) Sdn Bhd is Malaysia's leading retailer. The group offers customers value-for-money through low-cost, efficient distribution of high quality foods and consumer goods in its supermarkets and hypermarkets. It also provides health and beauty products via its pharmaceutical retail outlets. Founded over 60 years ago and acquired by the Dairy Farm Group in 1999, GCH Retail Malaysia consists of over 120 Giant hypermarkets, superstores and supermarkets, over 400 Guardian pharmacy, health and beauty stores and more than 16 Cold Storage supermarkets. In 2016, GCH Retail Malaysia is enhancing its product range, improving stock controls, broadening the fresh product offered and streamlining logistics and costs in its food retailers. The company has more than 14,000 employees and continues to lead the retail industry in Malaysia. For further information about GCH Retail Malaysia, visit www.giant.com.my.
About Shieldcard Holdings Sdn Bhd
Shieldcard Holdings Sdn Bhd (Shieldcard) is a segment-based marketing organisation with the sole purpose of creating a higher quality of life for people in the communities we serve. Our aim is to provide access to a higher standard of protection, health, and wellbeing through a customised suite of products and services at NO COST to individuals. Through leveraging the everyday purchasing power of large groups, Shieldcard programmes are able to "self-fund" specifically designed healthcare benefits and services at NO COST to our defined customer segments. For further information about Shieldcard, visit www.axxess.com.my.
About AIG
American International Group, Inc. (AIG) is a leading global insurance organization. Founded in 1919, today AIG member companies provide a wide range of property casualty insurance, life insurance, retirement products, and other financial services to customers in more than 80 countries and jurisdictions. These diverse offerings include products and services that help businesses and individuals protect their assets, manage risks and provide for retirement security. AIG's core businesses include Commercial Insurance and Consumer Insurance, as well as Other Operations. Commercial Insurance comprises two modules – Liability and Financial Lines, and Property and Special Risks. Consumer Insurance comprises four modules – Individual Retirement, Group Retirement, Life Insurance and Personal Insurance. AIG common stock is listed on the New York Stock Exchange and the Tokyo Stock Exchange.
Additional information about AIG can be found at www.aig.com | YouTube: www.youtube.com/aig | Twitter: @AIGinsurance www.twitter.com/AIGinsurance | LinkedIn: www.linkedin.com/company/aig. These references with additional information about AIG have been provided as a convenience, and the information contained on such websites is not incorporated by reference into this press release.
AIG is the marketing name for the worldwide property-casualty, life and retirement, and general insurance operations of American International Group, Inc. For additional information, please visit our website at www.aig.com. All products and services are written or provided by subsidiaries or affiliates of American International Group, Inc. Products or services may not be available in all countries, and coverage is subject to actual policy language. Non-insurance products and services may be provided by independent third parties. Certain property-casualty coverages may be provided by a surplus lines insurer. Surplus lines insurers do not generally participate in state guaranty funds, and insureds are therefore not protected by such funds.