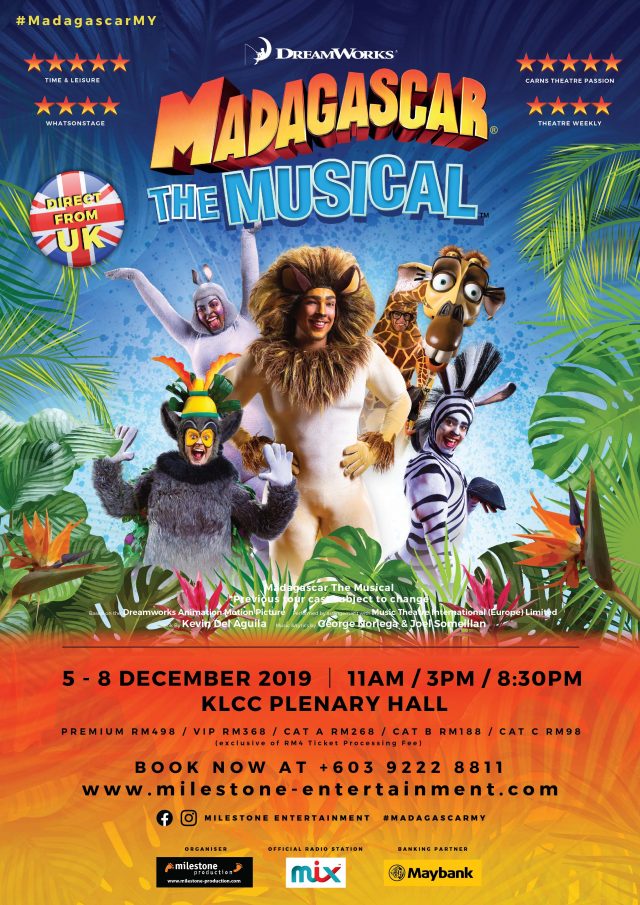 It's no secret that the 2005 smash-hit film Madagascar has been well received by kids and young adults, not to forget its catchy tune "I like to Move It, Move It"! Madagascar has now been brought to life on stage in an all-singing, all-dancing extravaganza. Here are 8 reasons why you should catch Madagascar The Musical this 5 to 8 December at Plenary Hall, KLCC.
A Catchy Story
Based on the hit animated motion picture, Madagascar the Musical is centred around Alex the Lion and his friends Marty the Zebra, Melman the Giraffe and Gloria the Hippo who all reside at the New York's Central Park Zoo where they have spent their whole lives in a confined area. Curious to see what else is out there, Marty escapes from the zoo and his friends follow. One event lead to another and before long, our four friends find themselves washed ashore on Madagascar and into the zany world of King Julien.
Great Characters
No musical is complete without a memorable cast. In this case, it's Alex the Lion, Marty the Zebra, Melman the Giraffe, Gloria the Hippo and of course those hilarious penguins who make the musical a hit! Also joining these popular characters is King Julien, the hyperactive, egotistical King of the Lemurs with a hilarious accent and some serious dance moves.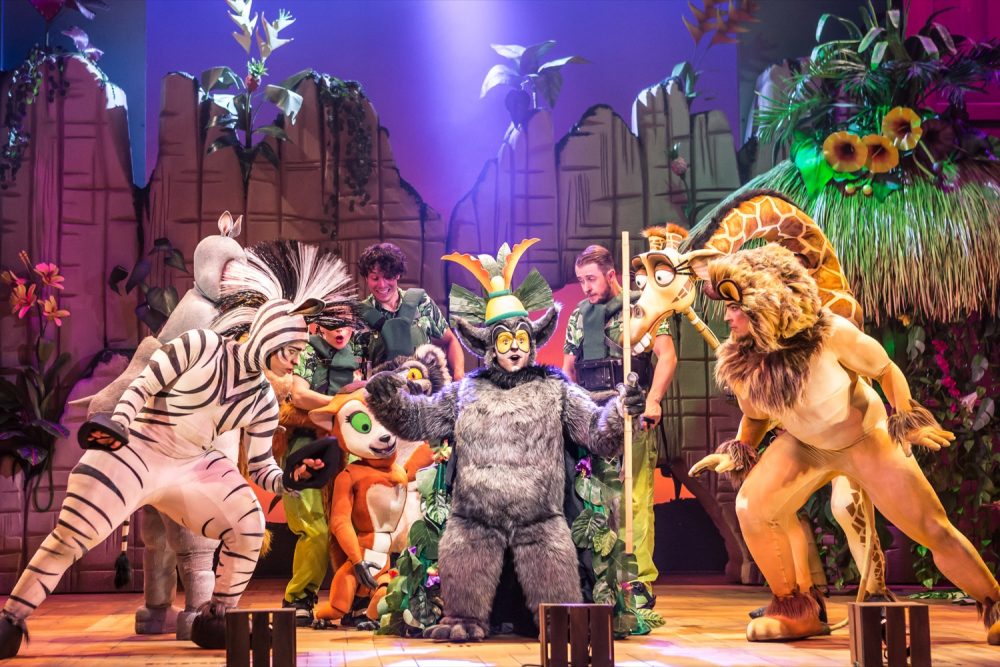 Entertaining Music Scores and Choreography
Everyone loves the movie's hit song "I like to Move It, Move It". Musical choreographer Fabian Aloise put together a really cool and fun dance sequence to go with the same song; you'll be tempted to dance along while watching the musical!
The show has many L-O-L moments
Who doesn't love a good laugh… and with Madagascar the Musical, lots of laughter is a guarantee. Especially with King Julien's witty humour, hilarious accent and amusing antics – you'll be laughing till your tummy aches!
Incredible costumes and makeup
It will be interesting to see the many different costumes and makeup at the musical. Every character has their own special costumes, like King Julien who has to wear a huge winter jacket and dance around with it!
Love the movie? You'll love this too!
Imagine the movie coming to live on stage! To achieve this, various props are used to "re-create" each scene, especially the island of Madagascar.Special lighting is engaged to bring out the mood for each scene while the music will get you off and on your feet!
Fun for all
The musical is perfect for both adults and kids, and is a great activity to do together during the school holidays while introducing your young kids to wildlife and different animals. Sing and dance to the catchy tunes; you might end up with some serious dance moves.
Get your kids involved
What better way to introduce theatre and musical arts to your loved ones but through entertaining and memorable shows like this one! This family-friend show attracts with its cool stage presence and awesome visuals that will leave you and your kids wanting more.

Don't want to miss out of the musical? Here are more details on where you can get your tickets and what you can expect during the show.
For more information on the show, cast and where to purchase tickets, visit www.milestone-entertainment.com or www.facebook.com/MilestoneEntertainment.Show/
Show Date: 5 to 8 December 2019
Venue: Plenary Hall, KLCC
Ticket Prices: RM498 (Premium) | RM368 (VIP) | RM268 (CAT A) | RM188 (CAT B) | RM98 (CAT C)
Ticket prices are subject to RM4 ticketing fee
Maybank Special Promo:-
Enjoy 25% off tickets when you purchase with your Maybank Card. Valid for Premium, VIP and Cat A tickets. Promo ends 8 Dec 2019.
Get tickets at: bit.ly/MadagascarMY