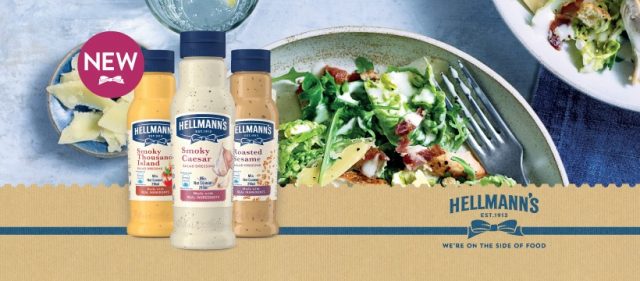 Hellmann's serves pleasurable food moments with three unique flavours for Malaysians
KUALA LUMPUR, 19 November 2019 – Hellmann's celebrated their official arrival to Malaysian shores today with the delicious launch of their new range of salad dressings. Made with real ingredients that bring out the best in simple yet pleasurable food moments, the three variants deliver the pleasure of delectable flavours in the form of Roasted Sesame, Smoky Thousand Island and Smoky Caesar to enhance the taste of salads.
Always in the pursuit of delivering great taste, the renowned condiment brand continues to challenge the misconception that eating healthy has to be boring with dull and bland salads. By championing real ingredients, Hellmann's is taking local favourite, Roasted Sesame to a whole new level with richer flavours for more exciting salads. Similarly, the brand is elevating the usual salad dressings, Thousand Island and Caesar from ordinary to extraordinary by adding a smoky flavour profile, the perfect addition for a unique and flavourful meal.
"At Hellmann's, we believe we can bring more to the table than just great taste. We are not only on the side of food, but also on the side of our consumers, encouraging Malaysians to bring out the best in their meals. While Hellmann's salad dressings may not be the main ingredient in a meal, it's the perfect addition to elevate each dish – making ordinary meals extraordinary," said Shiv Sahgal, Marketing Director of Foods & Refreshment, Unilever Malaysia.
As part of the brand's effort in taking ordinary to extraordinary, Hellmann's has teamed up with local health food cafe group La Juiceria Superfoods to co-create healthy and feel-good salads such as the Asian Duck Salad, Super Protein Caesar Salad and Avocado Kale Quinoa Salad. The strategic collaboration is a reflection of Hellmann's approach to encourage Malaysians to include salads into their daily diet and inspire a lifestyle of making every mealtime an exciting one with Hellmann's.
Experience the great taste of Hellmann's today by picking up the new Roasted Sesame, Smoky Thousand Island and Smoky Caesar salad dressings at all major supermarkets, hypermarkets, as well as on partnering e-commerce sites such as Lazada and Shopee.
Hellmann's Roasted Sesame, Smoky Thousand Island and Smoky Caesar salad dressings are available in 210ml bottles at a suggested retail price of RM9.00 each.
La Juiceria Superfoods's three new salads in collaboration with Hellmann's will be sold at RM21.90 each and are available in all La Juiceria Superfoods outlets as well as food delivery platform GrabFood from now till 29th Feb 2020.
For more information and updates, follow Hellmann's Malaysia on Facebook (https://www.facebook.com/HellmannsMY) or visit Unilever's Total Foods website (https://www.nakmakanapa.com.my/).