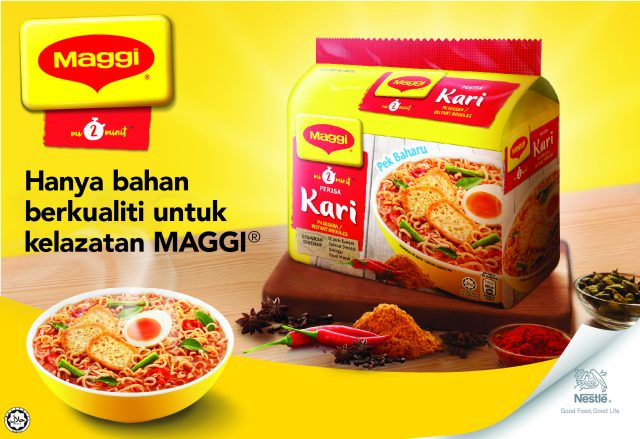 Petaling Jaya, 25 November 2019: Perfecting home-cooked curry, in taste and aroma, can be a daunting experience for most. To Chef Sharifah Hamidah Syed Mohsin, marrying the right blend and quality of spices, coupled with smart cooking, is a must-have to enjoy a delicious bowl of her favorite curry.
Chef Sharifah is driven by passion of taste authenticity in her food and cooking. In her role as the Maggi® Chef and as a spice rack expert, she shares tips on her favorite topics: spices and curry.
"Did you know we have always used 12 carefully-sourced ground spices in Maggi® 2-Minute Kari Noodles? It's typical for home cooks to blend and stir-fry the Rempah 4 Sekawan (cinnamon, cardamom, star anise and cloves) in most curries and dishes," she says. "Maggi® went through the trouble to source for the spices from across the world to ensure that all ingredients used are top quality and nothing less, to give the best meal experience to Maggi® lovers in quality and great taste.
The 12 quality spices (Cumin, chillies, nutmeg, turmeric, clove, fenugreek, black pepper, cardamom, ginger, anise, paprika, and coriander) are sourced from across the world, such as chilies from India and star anise from Turkey, and blended together to achieve the consistent, signature authentic taste that Malaysians love.
Simply having the right blend of quality spices is not enough. In order to achieve the right blend, how one cooks the spices will affect the aroma of the curry.
The traditional way to cook curry is a long and elaborate process, often passed down from generation to generation. This is because all the ingredients need to be slowly cooked to perfection till the moisture evaporates and the oil floats to the top. The term is described as "pecah minyak". This method brings out the taste and aroma of an authentic curry.
Chef Sharifah said she learned the pecah minyak method from her mother and grandmother.
"Pecah minyak is vital for the perfect curry. It is not easy to master because it can be hard to gauge when the consistency is right. At home, I will have to blend the wet ingredients like onion, ginger and garlic with dry spices, cook with oil, and only get pecah minyak when the paste and the oil are separating into different layers," she explains.
Using a timeless recipe created by Maggi®'s in-house chefs, Maggi® 2-Minute Kari Noodles is a result of the 12 spices grounded and slow-cooked until pecah minyak to release the flavors. Once cooked, the curry is kept cool to dry naturally. No artificial preservatives are added to the favour. The Maggi® noodles are made from two types of high-quality wheat sourced from Australia to create the much-loved springy noodles.
Friends and family of Chef Sharifah's are fans including her mother.
Chef Sharifah's big family are surprised at the simplicity of cooking Maggi® 2-Minute Kari Noodles with the enjoyment of the true curry flavors for a hearty meal rather than having to make a curry dish from scratch. She adds: "It's also an additional treat for family members who love curry with noodles! My mother still whips up bowls of Maggi® 2-Mnute Kari Noodles in the kitchen these days because, after all, it is still our comfort food at home – and a great choice for working mothers and busy parents."
About Nestlé Malaysia
Nestlé is the world's largest food and beverage manufacturer. Headquartered in Switzerland, Nestlé is present in 189 countries around the world, and our 328,000 employees are committed to Nestlé's purpose of enhancing quality of life and contributing to a healthier future. Our performance is driven by our Nutrition, Health and Wellness strategy. Since 1912, we have been nourishing Malaysians through our quality brands and products, whilst maintaining our Halal excellence and integrity. This is in line with our promise of delivering GOOD FOOD, GOOD LIFE to all. To learn more about how we have been nourishing Malaysians for over a century, do visit www.nestle.com.my or our Facebook page at http://www.facebook.com/NestleMalaysia.
About MAGGI®
MAGGI® is a recognised global brand that has become a household name in Malaysia. Its core mission is to create good-food moments that bring families closer together. Through its wide range of products and food solutions, MAGGI® helps mothers to prepare tasty and balanced homemade meals for their families every day. The brand is also committed to the ever-evolving needs of meal providers, coming up with product innovations that have been loved by Malaysian families for generations.
About MAGGI® 2-Minute Noodles
MAGGI® 2-Minute Noodles is Malaysia's leading noodles brand in the soup segment with a range of popular flavours including Curry, Assam Laksa, Tom Yam and Chicken. We use only the finest quality ingredients to maintain our consistent signature taste and aroma that Malaysians are familiar with. Our noodles are made from 100% Australian wheat to provide a good source of protein and carbohydrates while our tastemakers are made using carefully sourced spices from around the world for their authentic, tasty flavour. We have been a reliable solution for Malaysians across generations by providing households with tasty and convenient meals, and we continue to encourage our consumers to pair their noodles with fresh ingredients (protein and vegetables) for more balanced, wholesome options.