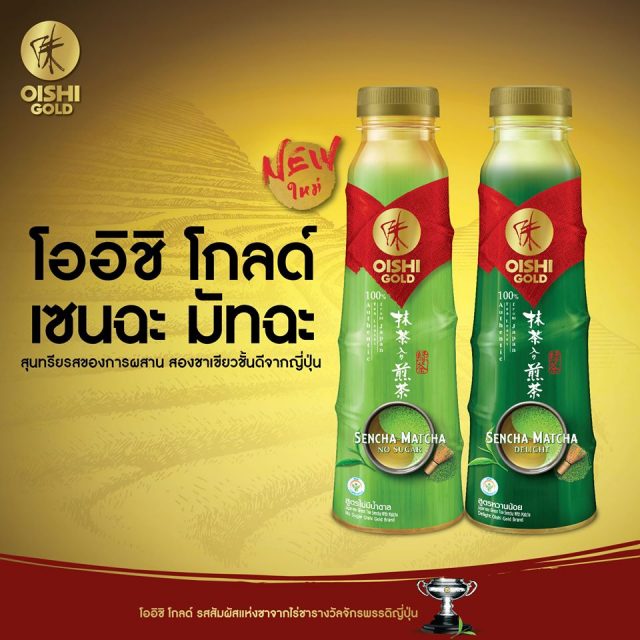 Oishi Group Public Company Limited, Thailand's food and drink company, has introduced Oishi Gold Sencha Matcha RTD tea to add to its existing range of Oishi Gold premium RTD tea first launched in December 2018. The purpose of Oishi Gold is to strengthen Oishi's healthy positioning through the use no/low sugar formulation and premium positioning from the use of carefully selected premium Japanese tea leaves.
The new Oishi Gold Sencha Matcha is a combination of sencha (loose-leaf) tea and matcha, which has more caffeine than loose-leaf tea. Oishi Gold Sencha Matcha is available in No Sugar and Delight variants.
Oishi is currently the market leader in Thailand's RTD tea market with a market share of 43.5% as of June 2019, citing Nielsen data.
Ichitan, the second-placed in the RTD tea market, said its Shizuoka RTD tea is the largest premium RTD tea in the market. Shizuoka registered a 286.2% year-on-year growth in the 12 months to June 2019 to reach a value of THB 206 million citing Nielsen data.
The premium tea is the sub-category that posted the highest growth with a rise of 33.4% to THB 676 million in the 12 months to June 2019. As a comparison, the overall RTD tea market rose by 5.5%, while mainstream was up 10.7%. Both herbal tea and nata de coco fell respectively by 8.4% and 22.6%. The growth of the premium tea sub-category demonstrates Thai consumers want healthy, premium RTD teas.