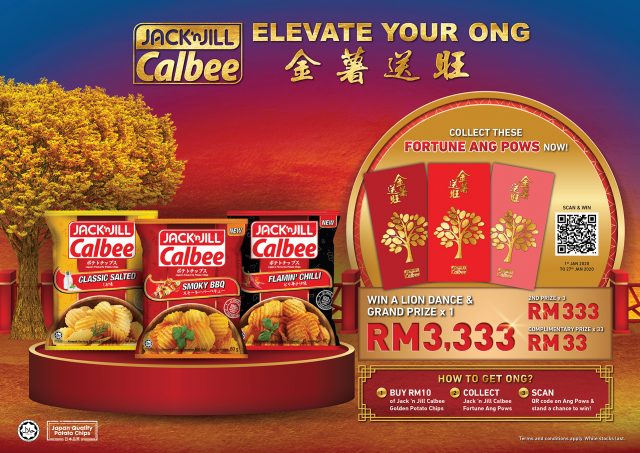 Win a big ang pow up to RM3,333 cash and a lion dance performance when you buy Jack 'n Jill Calbee
KUALA LUMPUR, 2 January 2020 – Chinese New Year is fast approaching and apart from gathering with family and friends to share good food and great times, one thing synonymous with the celebration are the customs and traditions to bring in more luck so that the year ahead will be prosperous or in Chinese, "ONG!"
Want to try something new this year? Take on a new custom to be ONG with Jack 'n Jill Calbee, the newly popular potato chips brand. Jack 'n Jill Calbee will Elevate Your ONG with its golden potato chips and auspicious Chinese New Year Fortune Ang Pow Giveaway where you stand a chance to win the Grand Prize of RM3,333 cash ang pow and a Lion Dance Package Performance to usher in even more ONG!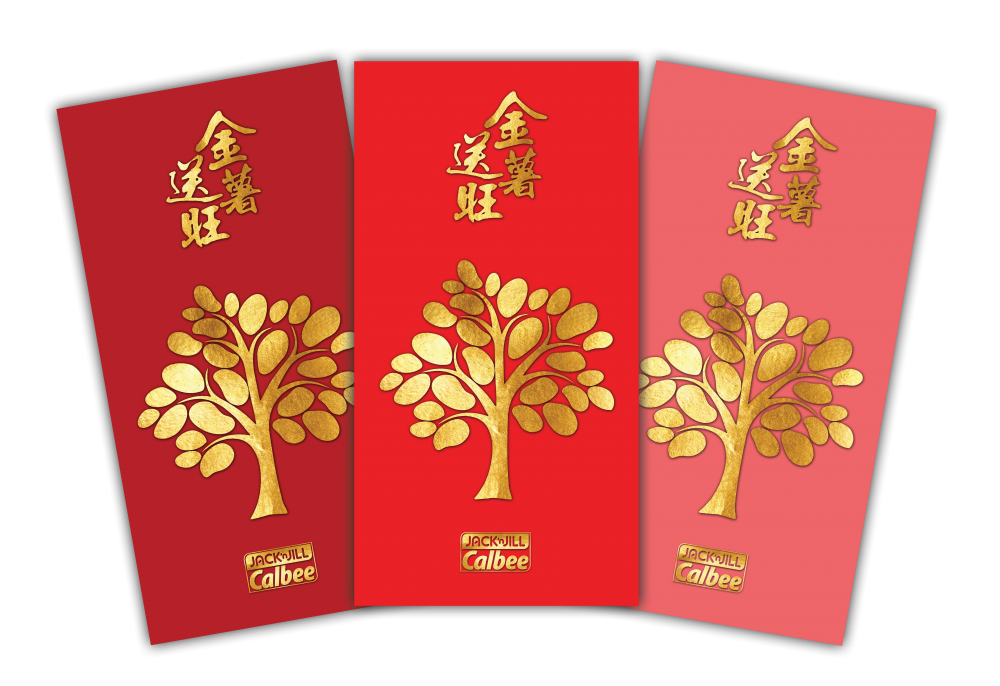 "To celebrate the new cycle of the Chinese Zodiac of 2020, Jack 'n Jill Calbee is giving a big offer in-store for our consumers. With the year of the 'Rat' 鼠and 'Chips' 薯 both pronounced similarly (as "Shu") in Mandarin, we want to take the opportunity to encourage more consumption of our Jack 'n Jill Calbee Golden Chips as a symbolic act of welcoming ONG for Chinese New Year," says Emmanuel B. Puno, Senior Vice President (SVP) of URC Snack Foods Indonesia, Malaysia and Singapore.
"We hope consumers can share Jack 'n Jill Calbee Golden Chips with their friends and family during Chinese New Year visits, as though they are gifting prosperity and ONG to their loved ones. Additionally, for every purchase of RM10, consumers can redeem a set of limited-edition Jack 'n Jill Calbee Fortune Ang Pow packets. We call it Fortune Ang Pow because each one is designed with an auspicious Golden Money Tree, symbolizing giving or receiving ONG for the new year ahead," he continues.
THREE EASY STEPS TO ELEVATE YOUR ONG!
Step 1
Purchase RM10 worth of Jack 'n Jill Calbee at any participating outlets.
Step 2
With every purchase, you'll get a set of limited-edition Jack 'n Jill Calbee Fortune Ang Pow packets.
*While stocks last.
Step 3
Scan the QR code on the Fortune Ang Pow. Submit your details and proof of purchase.

ARE YOU ONG ENOUGH TO WIN THESE PRIZES?
Grand Prize x 1
RM3,333 cash & Lion Dance Package Performance (at your home)
Second Prize X 3
RM333 cash each
COMPLIMENTARY Prize X 33
RM33 cash each
Elevate Your ONG now with Jack 'n Jill Calbee's delectable flavours – Classic Salted, Smokey BBQ and Flamin' Chilli – in all participating stores like Giant, Aeon, Aeon Big, Econsave, TF Value, The Store, Sogo and many more and join Instagram celebrities May Ho, Jorise Lee, Wei Keat and many more to snack your way to a lucky year ahead.
 For more contest information, go to our Facebook page (www.facebook.com/JacknJillCalbee.MY) or Instagram (@jacknjillcalbeemy).
About URC Snack Foods (M) Sdn Bhd
URC Snack Foods (Malaysia) Sdn. Bhd., a subsidiary of Universal Robina Corporation of the Philippines, is the producer and distributor of the highly popular Jack 'n Jill Potato Chips in Malaysia. The company was first incorporated in 1982 and started commercial operations in 1984. Over the years, it has successfully expanded its products from potato chips to a variety of other snack foods under the Jack 'n Jill brand. Snack foods produced under the brand name includes "Roller Coaster", "Potato Chips", "Jigs", "Corn Curls" and "Chiz King". In addition to these, URC Snack Foods (Malaysia) also produces other products such as "Cloud 9" and "NIPS" chocolates, "Cream-O" and "Magic" biscuits, as well as "Cloud 9" and "Dynamite" candies. URC Snack Foods (Malaysia) also exports its products to more than 15 countries across the Asia-Pacific and Middle East.
About CALBEE Foods Co. Ltd
CALBEE, Inc. is Japan's leading snack and cereal foods producer and distributor. The company was incorporated in 1949 and began developing technology for wheat flour crackers in 1955. It expanded its products and markets to the United States in 1970, followed by Thailand, Hong Kong, and China. To date, the company has presence across the world and continues to develop unique products using a quality control system, ensuring safe, high-quality yet tasty and fun food to consumers around the world.