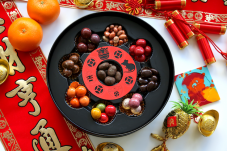 30 December 2019, Singapore – Janice Wong is celebrating Chinese New Year with an exciting collection of festive treats available exclusively from now until the end of January 2020. To welcome in the auspicious year of the rat, Wong and her team have created an array of new year confections, many of which have a twist on the much-loved classics of this festive new year holiday.
Perfect for the season of giving, this year's offering sees the return of Janice Wong's Chinese New Year Hampers. Filled with an assortment of cookies and treats, the hampers are available in three limited-edition options. The 6 Cookie Jars (S$168) and 9 Cookie Jars (S$238) features items such as Chocolate Pineapple Tarts, Kueh Bangkit and Shrimp Rolls, while the 5 Cookie Jars & 4 Teas set (S$238) includes cookie jar items, Pineapple Flower Tarts, Pineapple Balls, and four selections of tea such as Rose Marzipan and Crème Brulee.
(Above: Assortment of Janice Wong Chinese New Year cookies)
This year also sees the introduction of Chinese New Year exclusive Chocolate 40g Bars in two flavours, Mandarin Orange and Hae Bee Hiam. Each dark chocolate bar has been beautifully hand-crafted and decorated with a splash of festive colour, infused with Mandarin Orange or Hae Bee Hiam bits for texture and a punch of flavour. Additionally, the chocolate bars are packaged with a Chinese New Year greeting card, so customers can pen down a message for loved ones.
Individually packaged seasonable offerings are also available in single cookie jars, which include Chocolate Coated Love Letters (S$18) and Chocolate Coated Pineapple Tarts (S$32). Exclusive to these single cookie jars is the new Hae Bee Hiam Cookie, along with Janice Wong Singapore's CNY signatures Chocolate Bakkwa Cookie and Pork Floss Bakkwa Cookie, with prices starting from S$18.
Chocolate Coated Nuts and Fruit Jellies (S$58) come in nine different flavours, including Mandarin, Apricot, Cassis, Strawberry, Apple, and Raspberry. The chocolate-coated nuts and crispies are perfect for Chinese New Year gatherings amongst friends and family during the season of giving and reunion.
Finally, to top off the CNY collection in the year of the rat, Janice Wong introduces a CNY Special Mr Rat Chocolate (S$35 a pair) for 2020 – a playful chocolate rat with surprise fillings of cocoa almonds to usher in the Lunar New Year.
All items are now available for orders online and in store.